Opening: SUMMER SCHOOL SÜDTIROL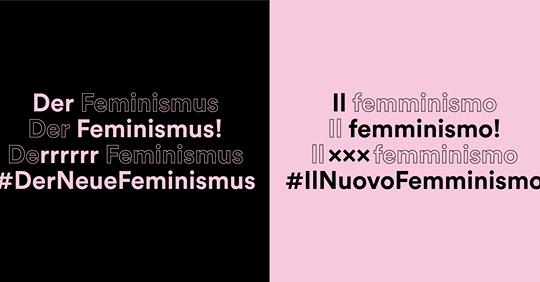 Constantly standing up for a society with equal rights. At this occasion, Summer School Südtirol introduces the founders of female empowerment initiatives, organisations, shelters and women's archives dealing with female empowerment in South Tyrol since the seventies.
Women from all fields publicly stood up and fought for equality in the workplace and in society. They showed solidarity, broke taboos and advocated against domestic and sexual violence against women. They stood up against a systemic forgetfulness concerning the achievements and accomplishments of women throughout history.
What are their experiences since these changes? In what amount did they shape collective awareness? What has changed? How do they see these developments today?
WITH
Tanja Slijvar (reading), Museum of Women Meran, Women Archive Bozen, Frauenhaus Brixen, Aied, Donne Nissà, Sophie Krier and many more.
MODERATION
Angelika Burtscher, Christine Helfer, Maria C. Hilber, Lisa Mazza, Maxi Obexer
About Lungomare
Lungomare, a cultural association founded in Bolzano in 2003, was created from the desire and necessity to open a space in which to share differences, experiences, opinions and desires, a space in which to make the link between cultural production and the political and social dimension. Lungomare undertakes projects that investigate and test possible relationships between design, architecture, urban planning, art and theory, the results of which are presented in different formats: public discussions, conferences, publications, exhibitions and interventions in public spaces. All these formats are characterised by the intention to interact with cultural and socio-political processes relating to the region in which Lungomare is located.
Currently Lungomare's activities focus on long-term residency projects, a format whereby Lungomare invites guests to engage and interact within the context of South Tyrol. Lungomare's activities are based on three principles: specific attention to the context in which the association's projects are undertaken, the transdisciplinary approach that distinguishes these projects, and reflection on the role of Lungomare as a cultural institution in connection with the region in which it operates.
Chronology
2003 Angelika Burtscher and Daniele Lupo establish Lungomare
2003 – 2005 curators: Patrizia Bertolini, Angelika Burtscher, Roberto Gigliotti, Manuela Demattio, Paul Peter Hofer, Brita Köhler, Daniele Lupo
2005 – 2013 curators: Angelika Burtscher e Daniele Lupo
2011 – 2013 scientific committee established: Angelika Burtscher, Roberto Gigliotti, Daniele Lupo, Vincenzo Mancuso, Lisa Mazza, Paolo Plotegher, Heimo Prünster
2014 ­− 2020 curators: Angelika Burtscher, Roberto Gigliotti, Daniele Lupo, Lisa Mazza, Paolo Plotegher
2021 artistic directors: Angelika Burtscher, Daniele Lupo
Production and organisation: Ada Keller
Territory
Lungomare is located at the edge of Bolzano, the capital of South Tyrol, and relates to the context in which it operates, attempting to highlight the dynamics of change. Large urbanized areas alternate with broad areas of intensive cultivation and yet others of picturesque landscape, all of which penetrate the centre of the city. The city is surrounded by mountains and this is one of the reasons why the tourism industry has become a driving force in this locality. The demographic structure of the city has been characterized for a long time by the coexistence of two populations, those speaking German and those speaking Italian. However, the social and demographic composition of Alto Adige Südtirol is changing. Migrants, including those from non-European countries are making their way to the area to settle, whilst others, including political refugees, are flowing through the region.