Sun., 1 October 2023
Question Time 2
Archive installation 2003-2023
Where Lungomare, Bolzano - Bozen
Time 12 pm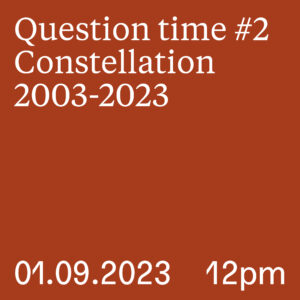 ::: Opening of the second day of Lungomare 20 :::
On Sunday 1st October at 12 pm the second Question Time offers a space for dialogue about the archive installation Constellation 2003-2023. Together with the curators of Lungomare, Angelika Burtscher and Daniele Lupo we explore projects, ideas, visions and impressions realised over these twenty years.
Come to find out more!
Check out the Lungomare 20 website to discover the other events of the weekend