FLUX – Futurefarmers – A Meander
A Meander
A Meander is a multi-year project by the artist collective Futurefarmers, with the aim of creating a permanent artistic installation along the Isarco river in Bolzano. A Meander puts people in new relationships with the diverse phenomena of the flowing water we call "river": Stories, imaginations, ebb and flow, shorelines, fictions, sedimentations, life forms, fossils, seeds and the potential of its power. Drawing on the human (and very local) history of extracting kinetic energy from moving bodies of water, the past is reconsidered through artistic investigation and action. Sound becomes a unifying element and an impulse to reflect on how we live together with the "river" (and all its inhabitants) – how we have shaped it and, more importantly, how it has shaped and continuously shapes us.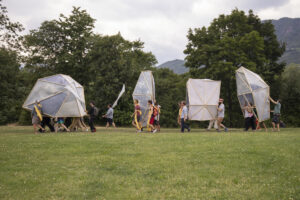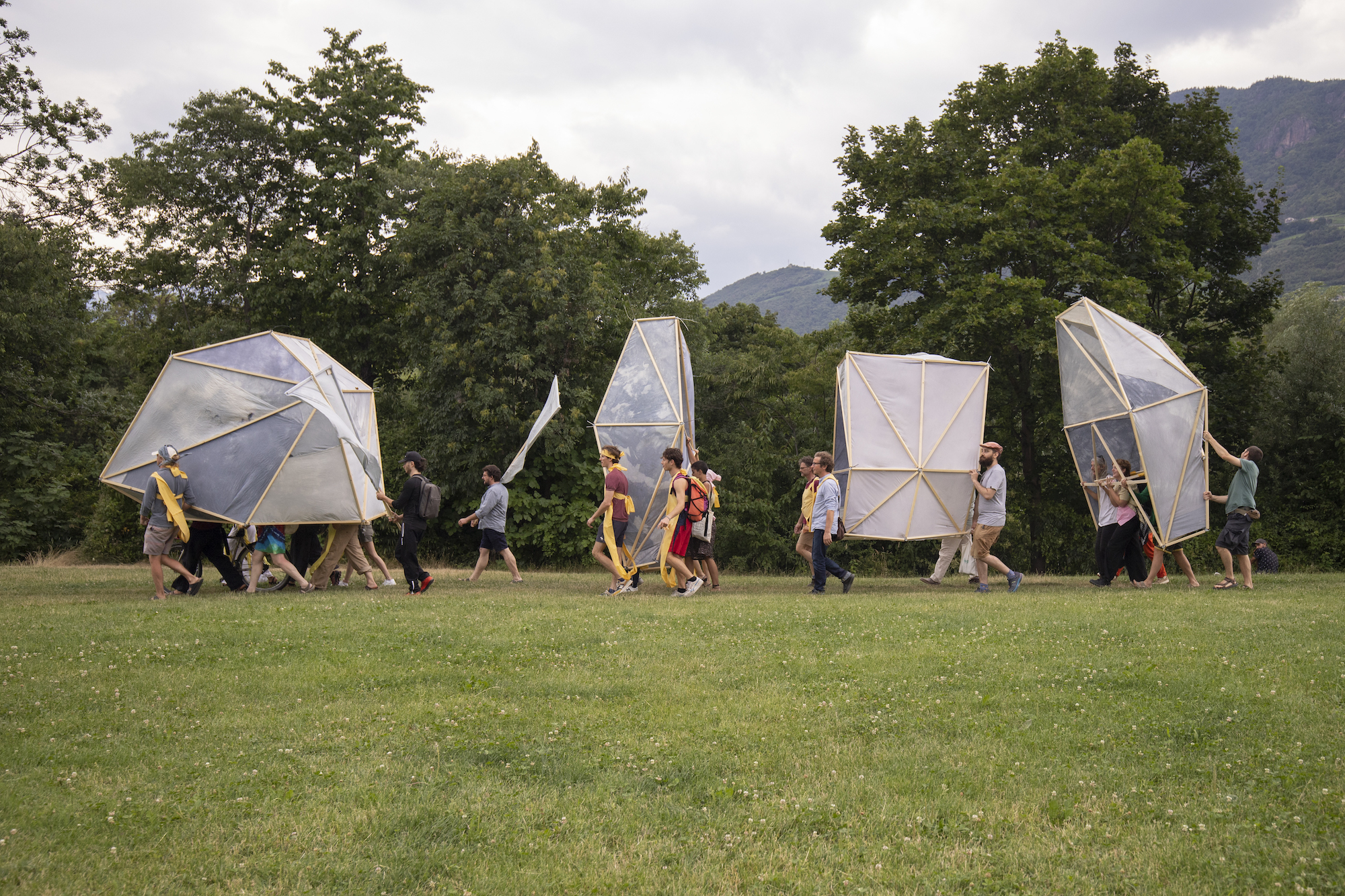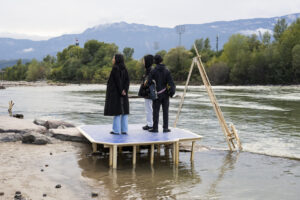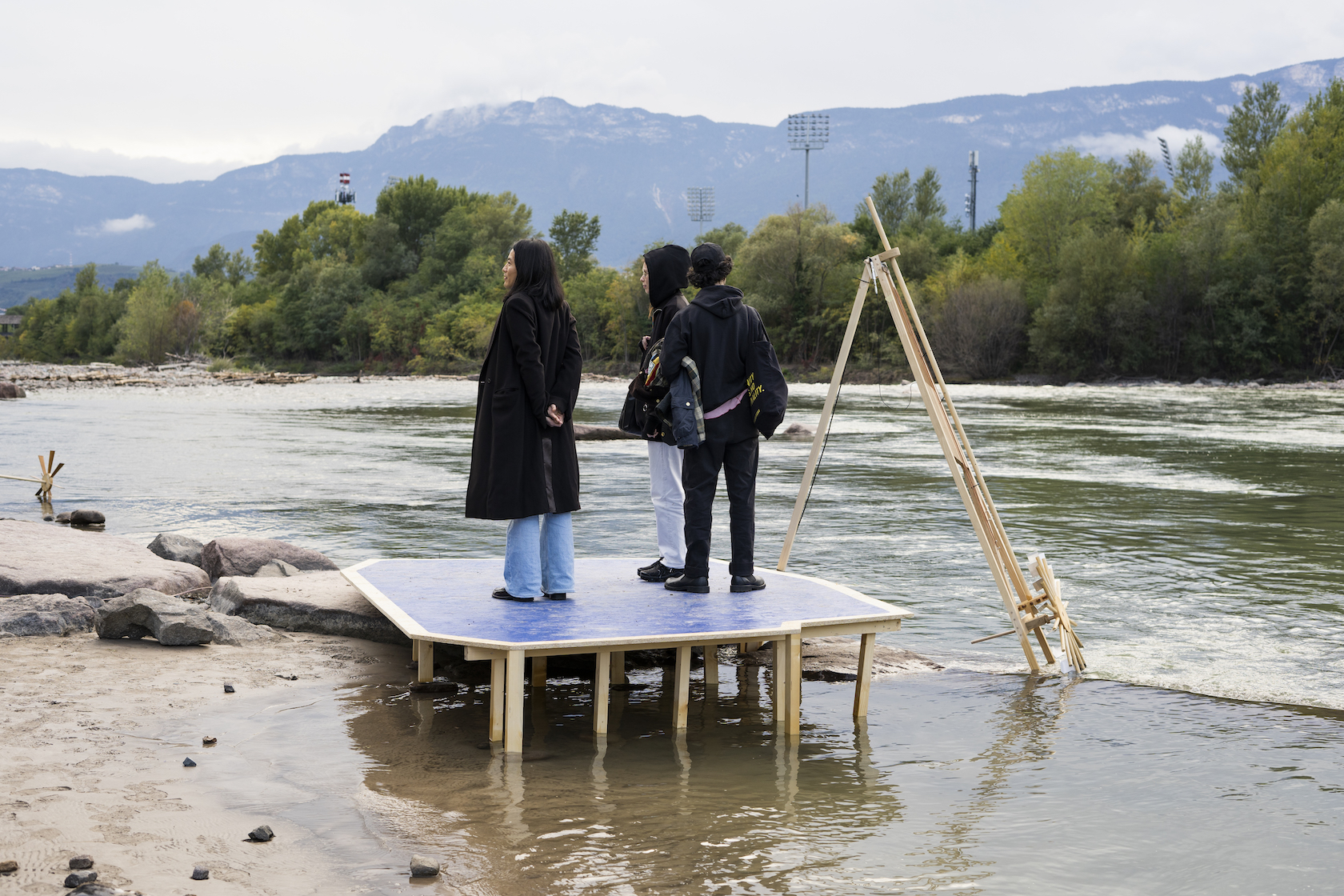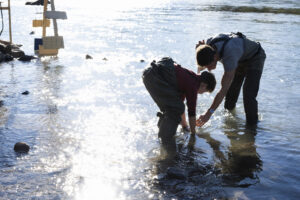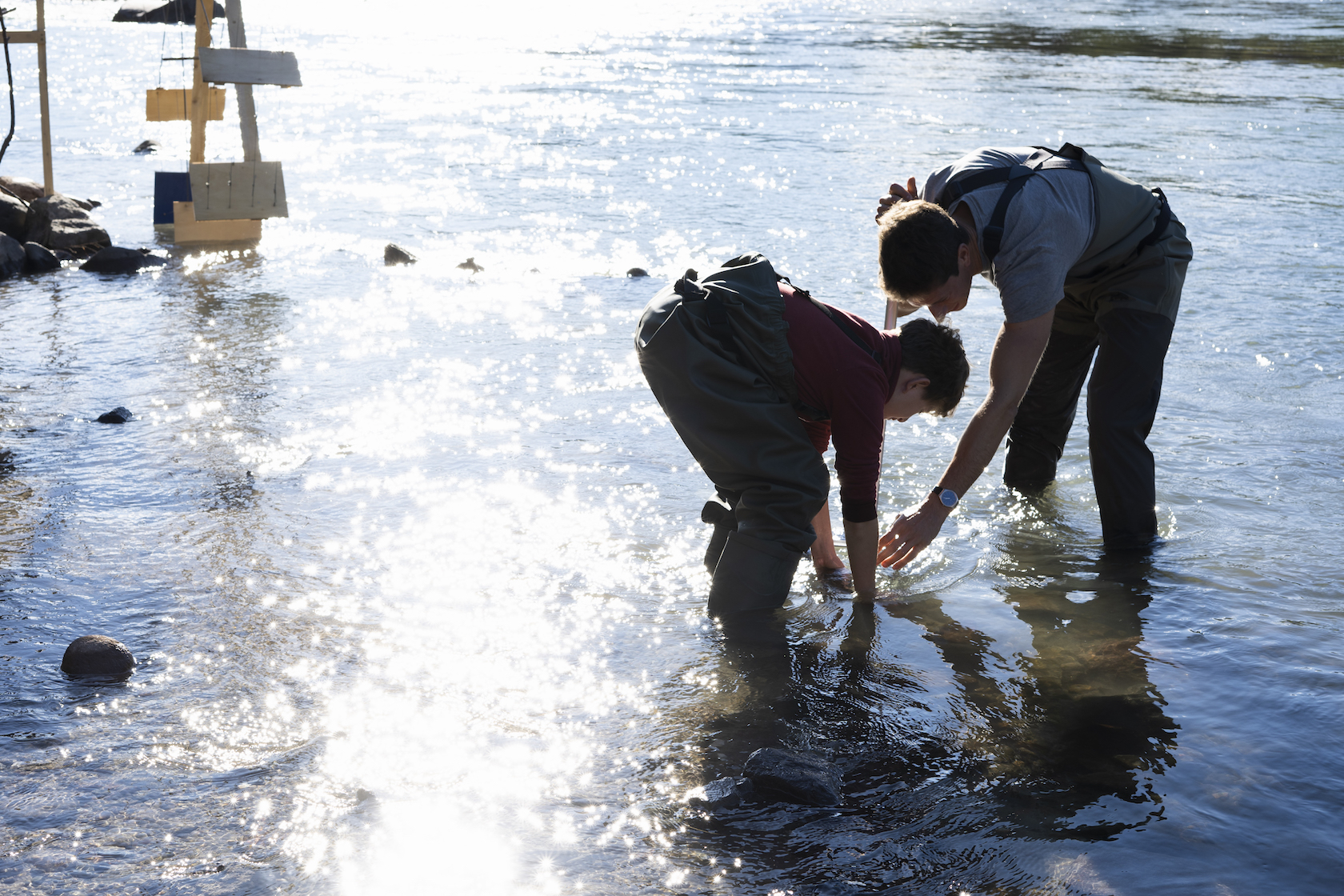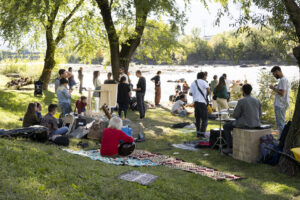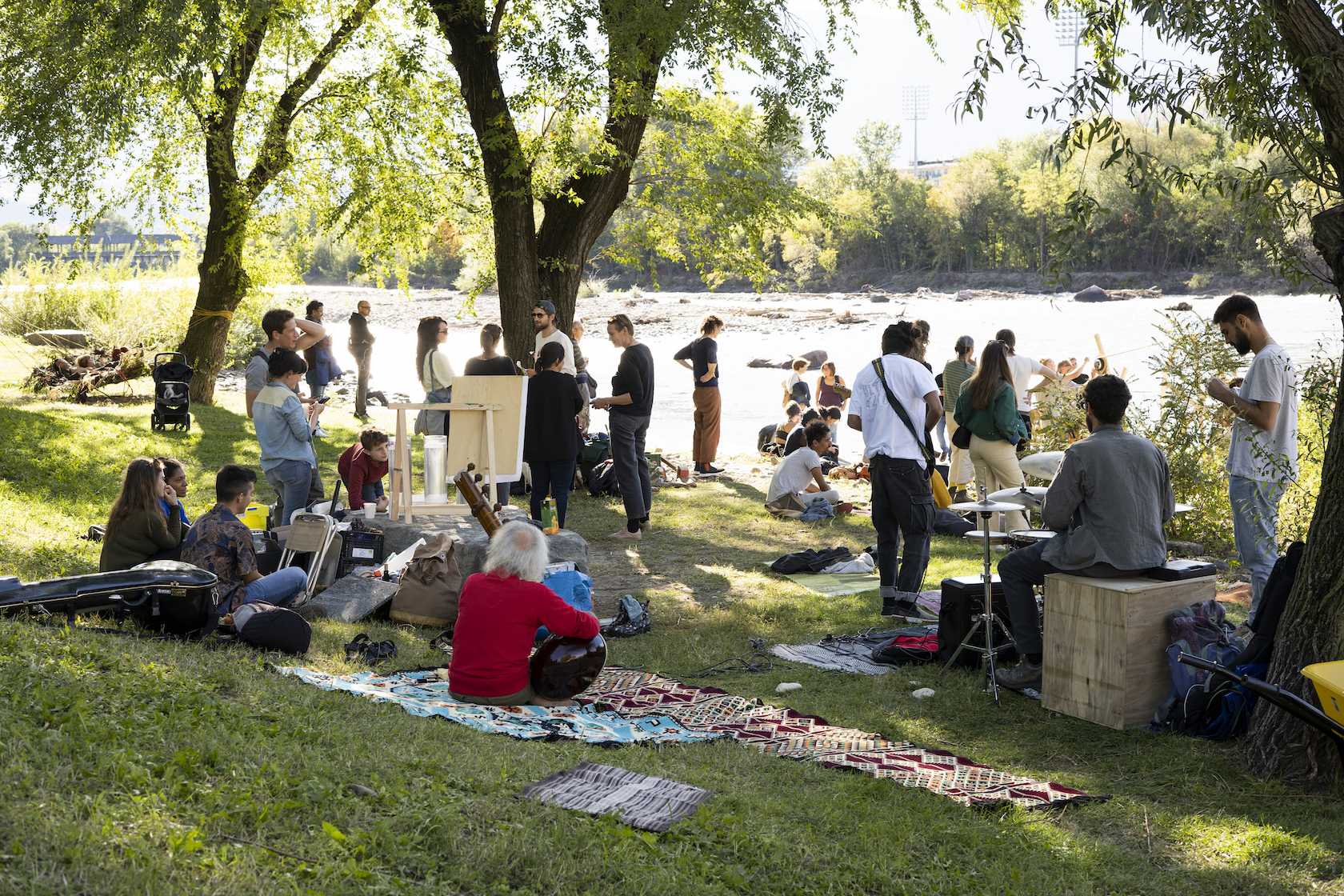 Act I: A meander with River Friends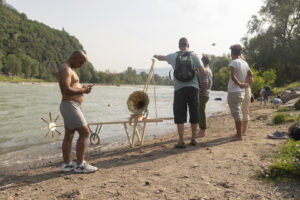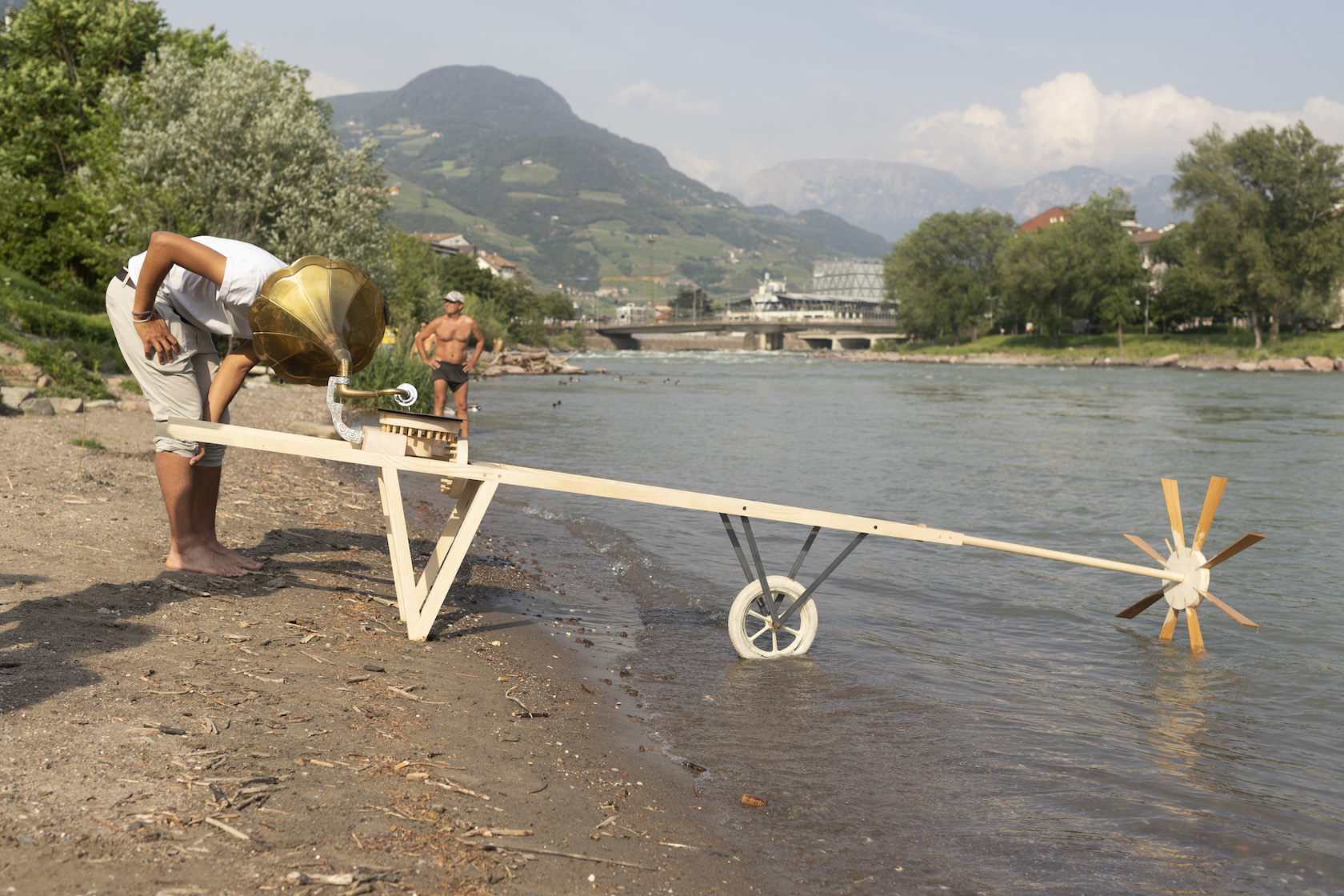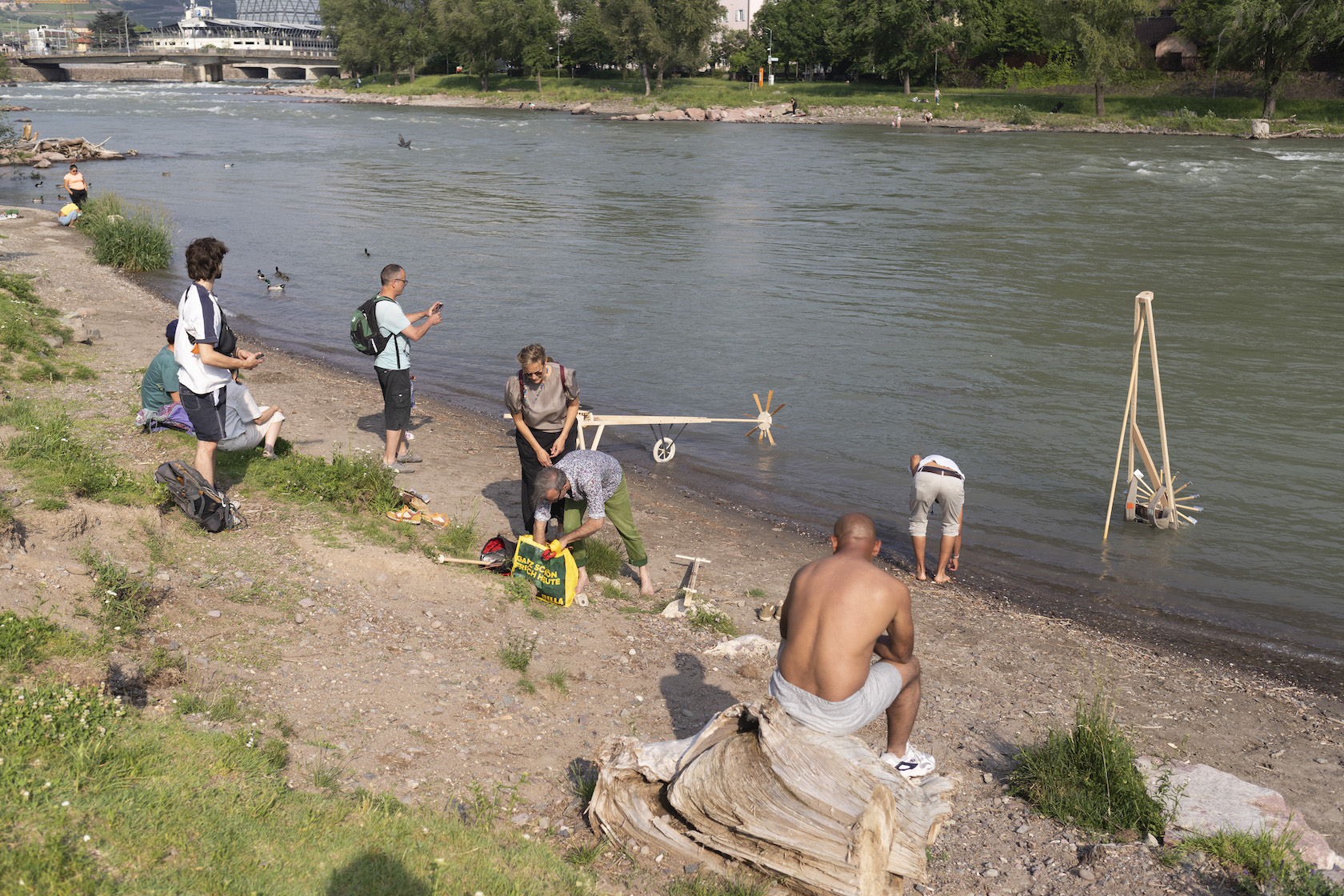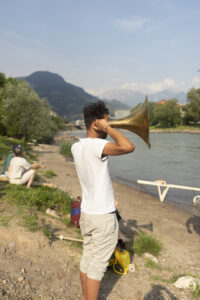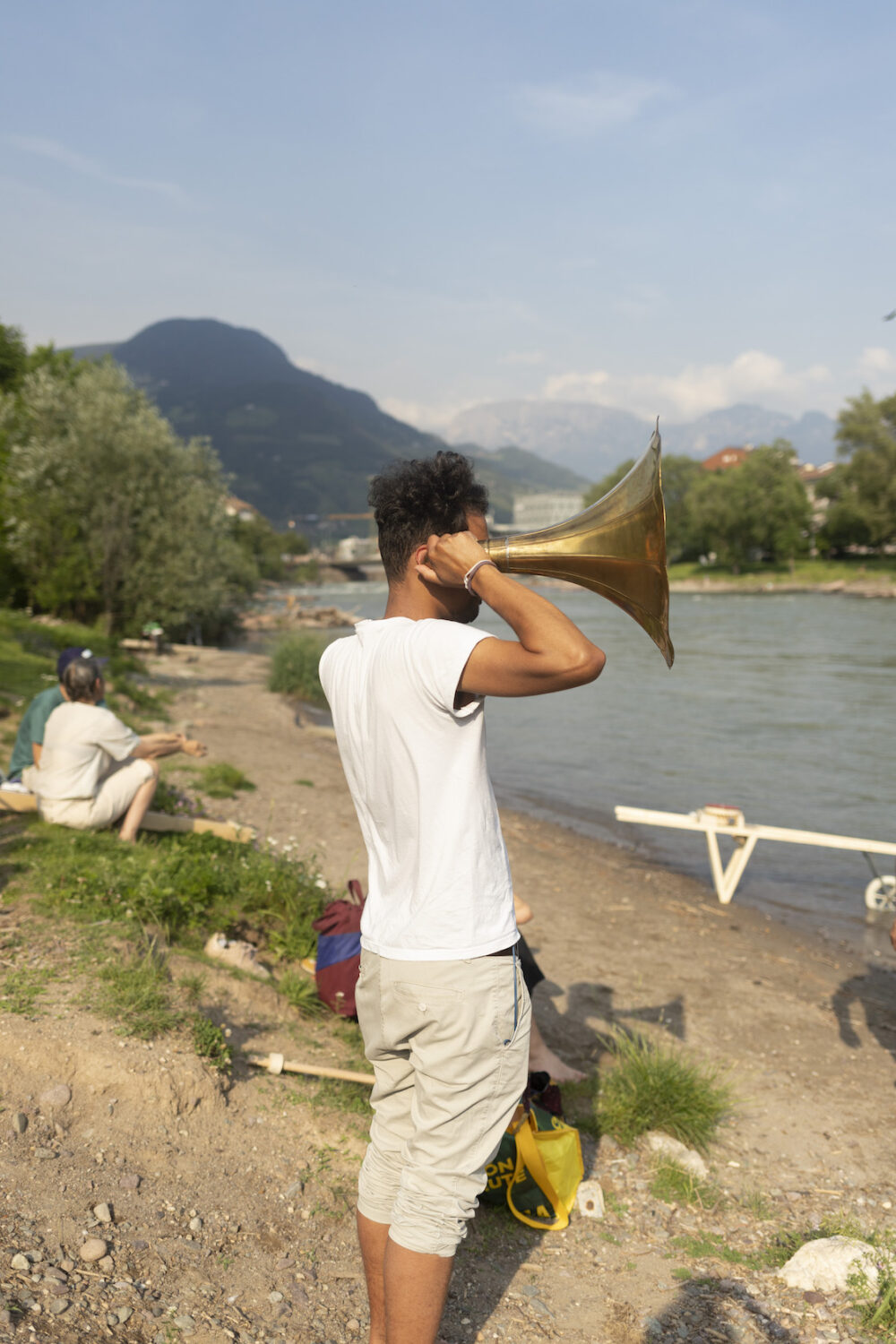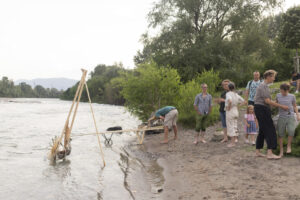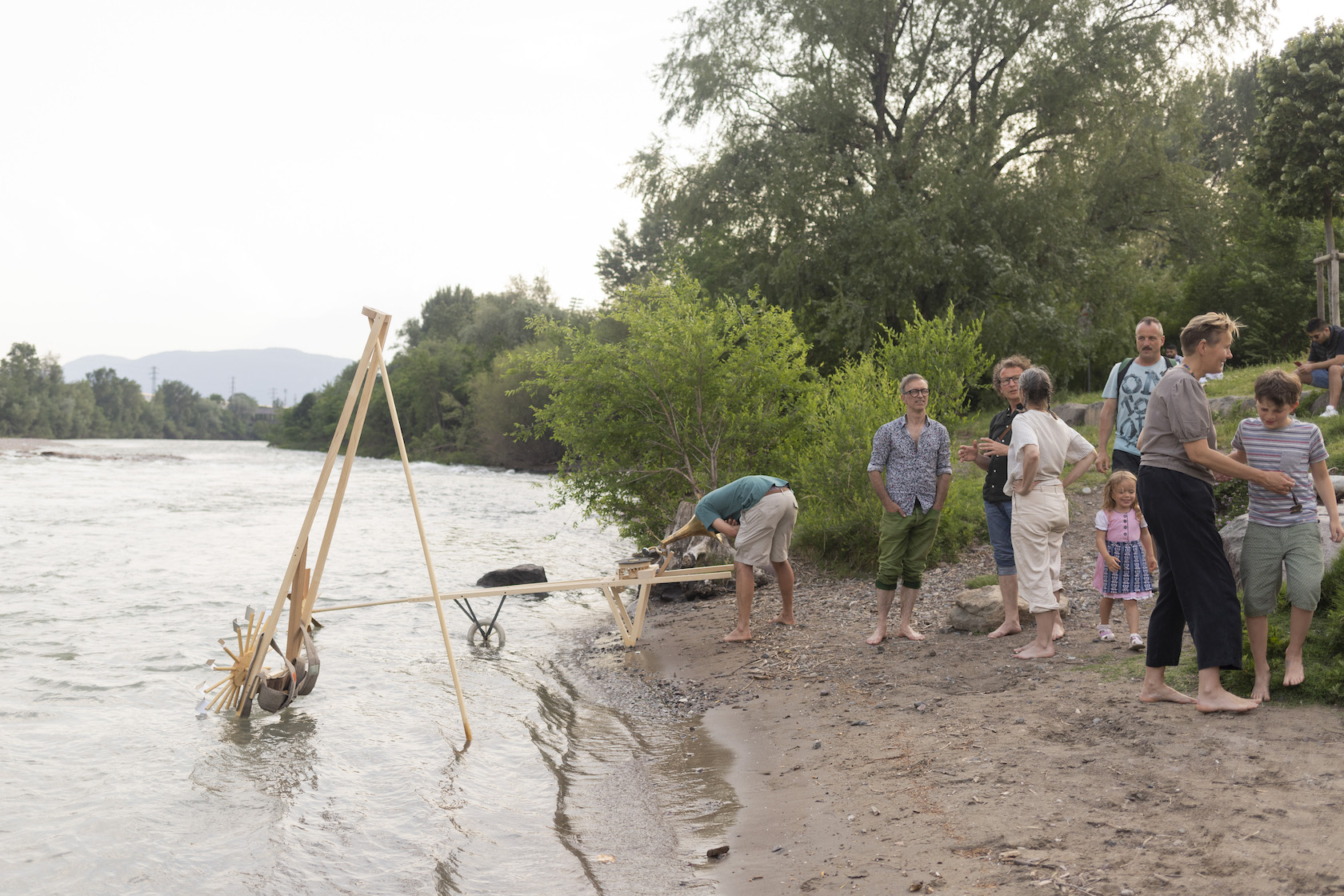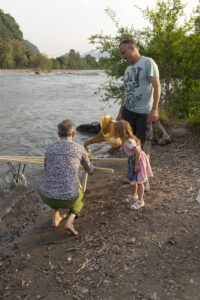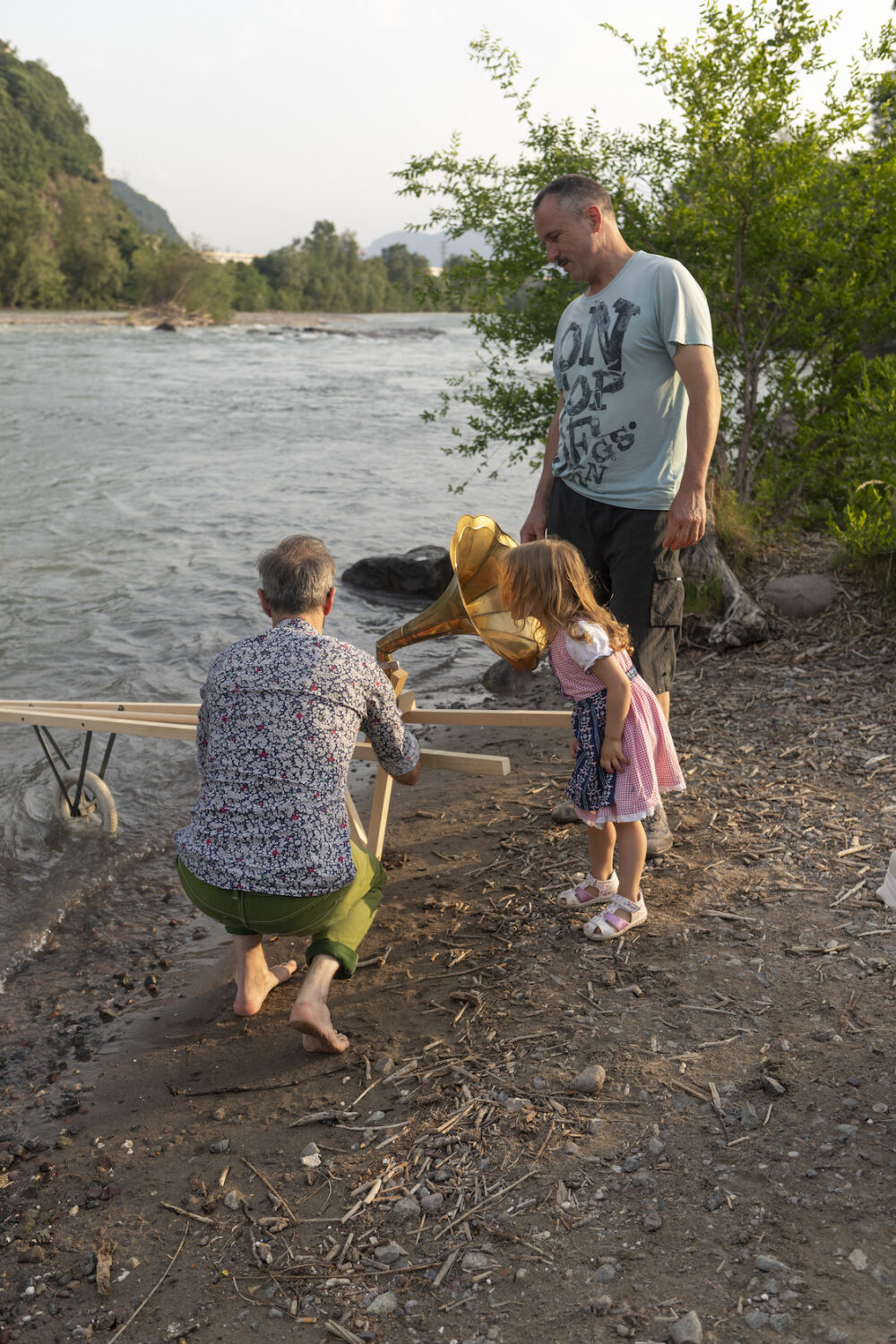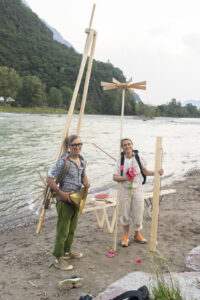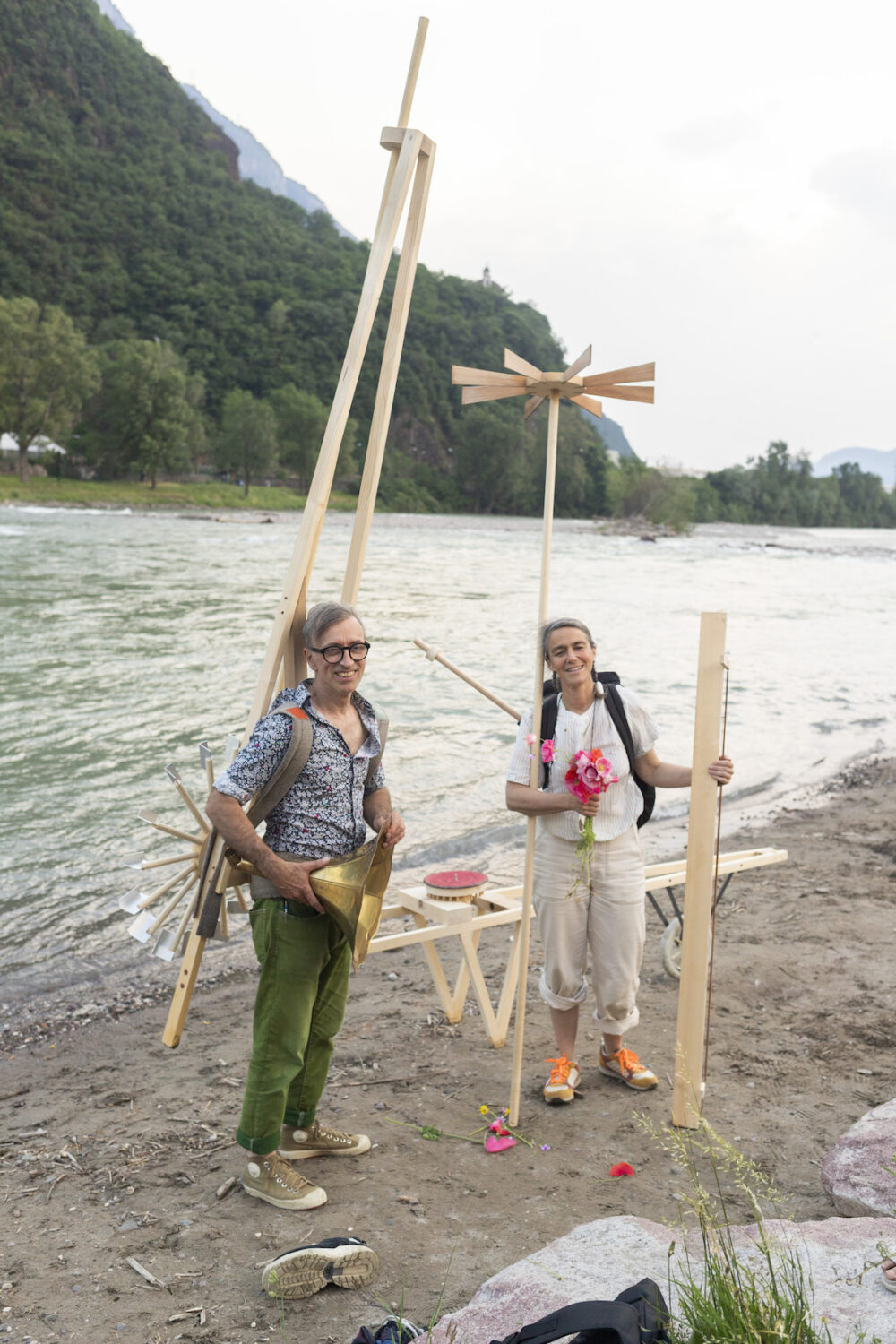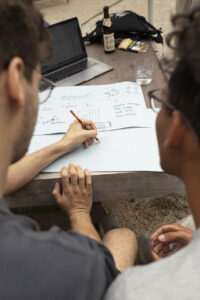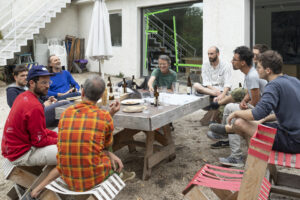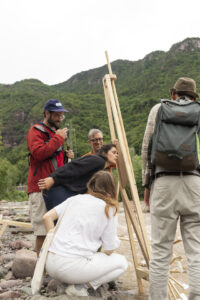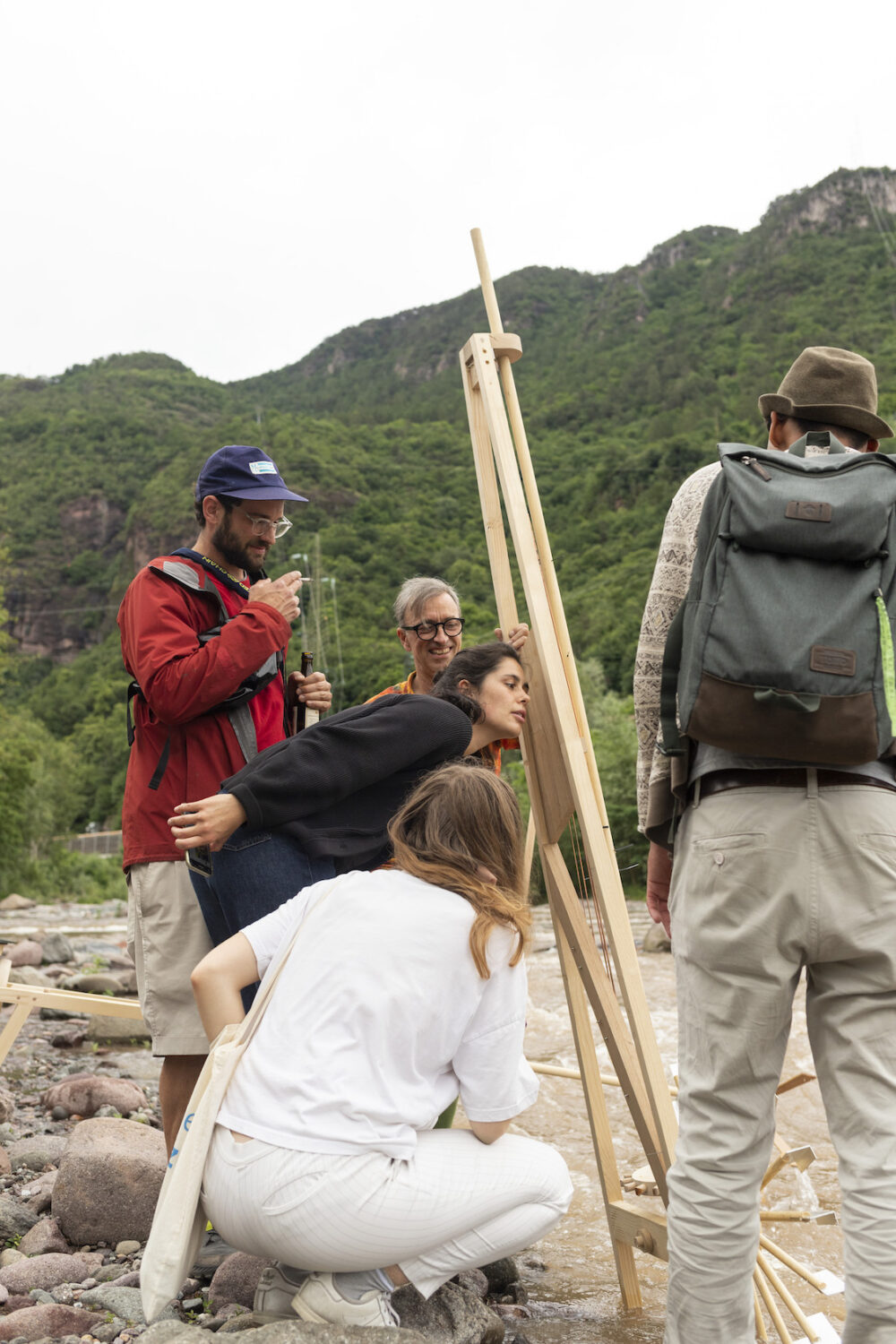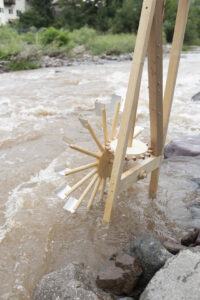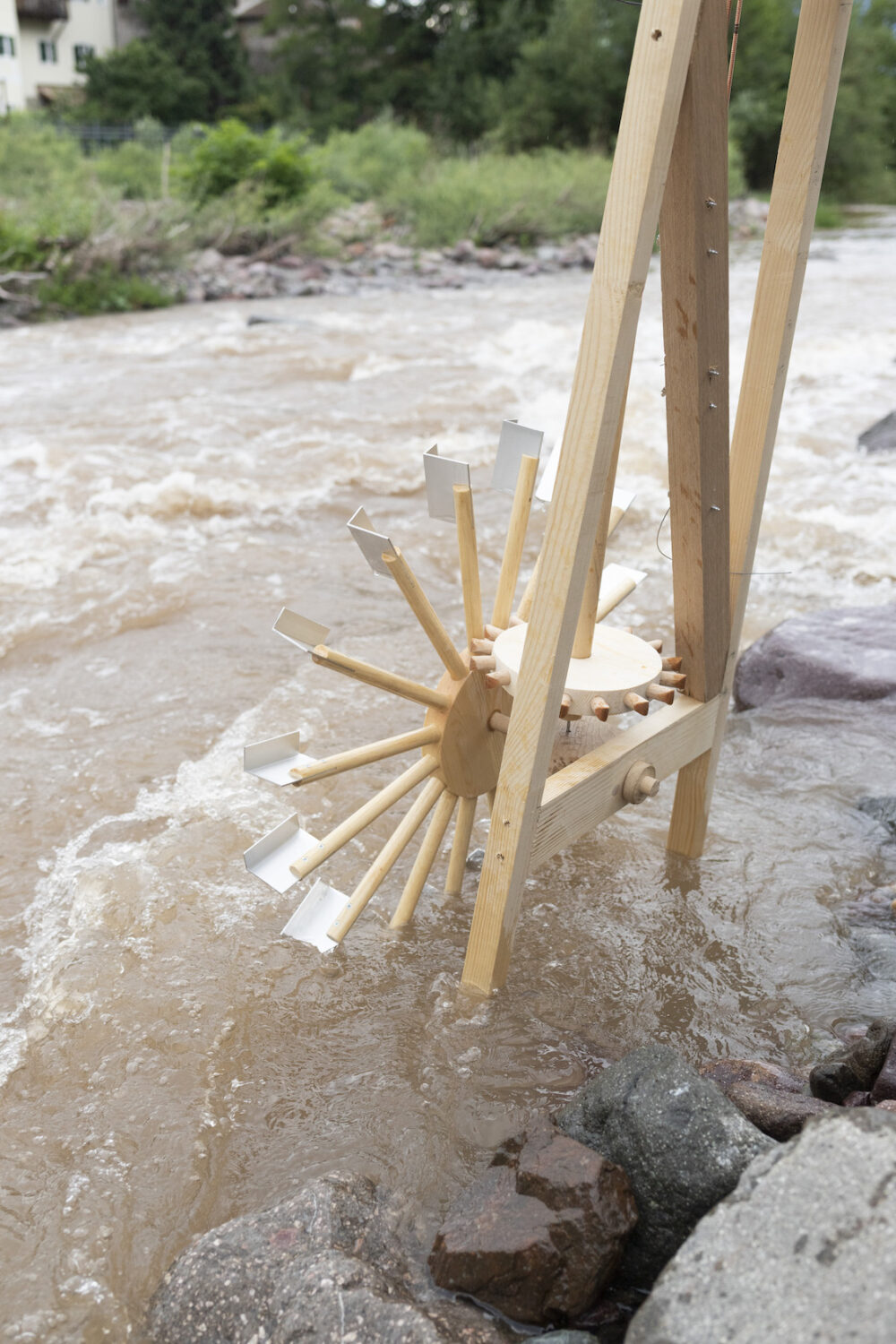 In May 2022 Futurefarmers explore different places along the rivers in Bolzano and transform them into an open sound space. In this first act, the artists move up and down the river with a few requisites and a small group of "river friends" – local sound artists, musicians and people working with electric circuits. Futurefarmers build a series of small, mobile water wheels enabling the contact with the river; one is a large backpack with piano strings on its back and another is a long wheelbarrow with a gramophone. Each "requisite" is animated by the flow of the river, creating a score for the scenographies encountered along the riverbank. Provisional in design but charismatic as an image, these "relational objects" attract curious passing-by and open a space of questioning and shared dialogue. Ideas emerge about the power of the river, its ecosystem, its history and a shared interest in using sound as a medium to enhance engagement with the river and the city's inhabitants.
Where: Riversides of Bolzano
When: 05.2023
Act II: (Com)positions with the river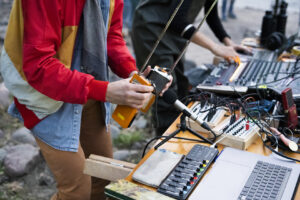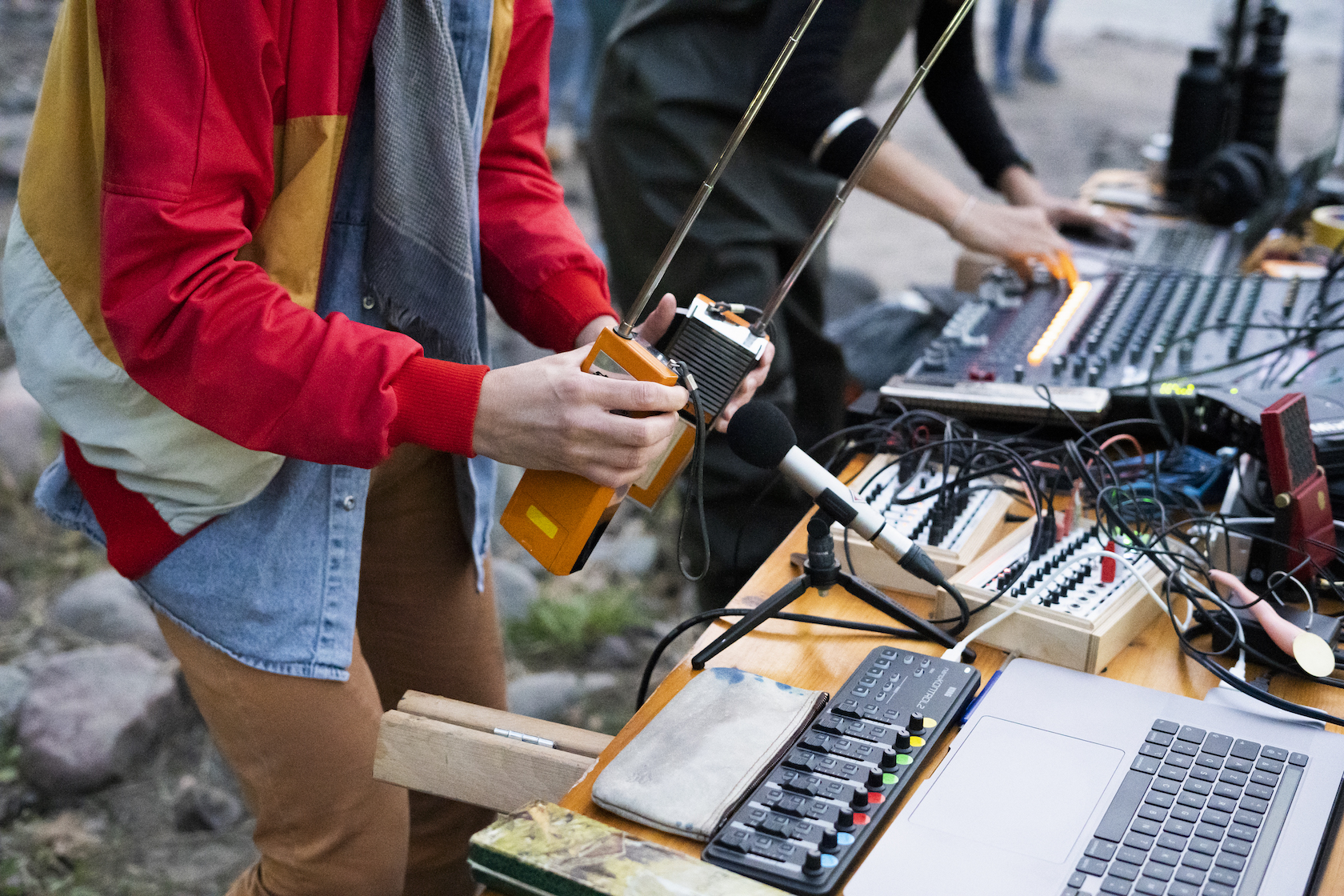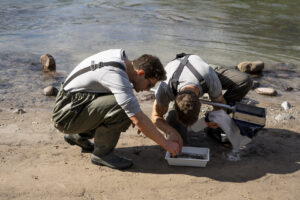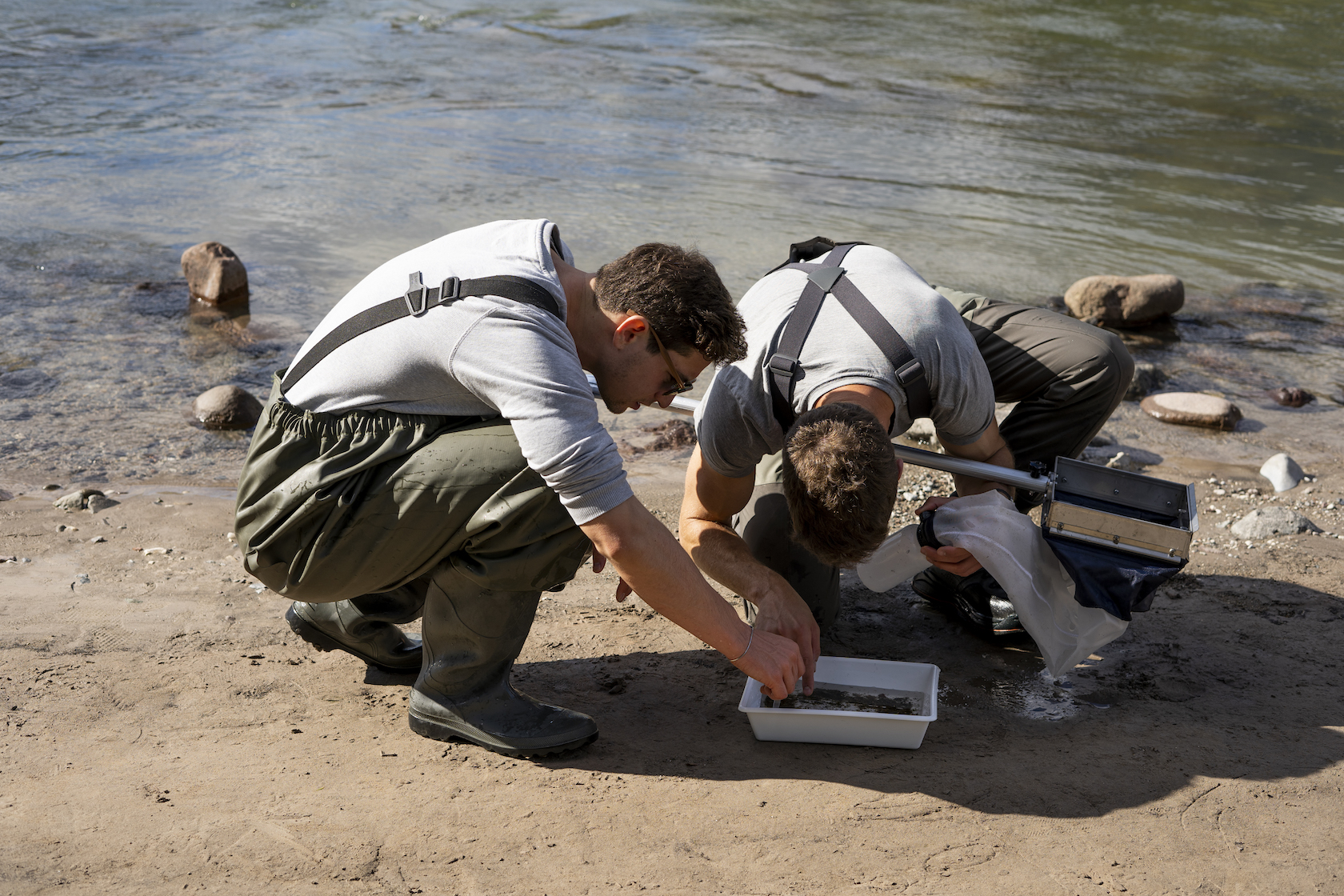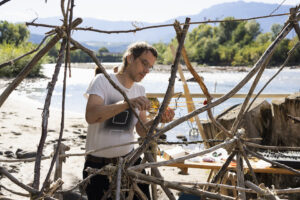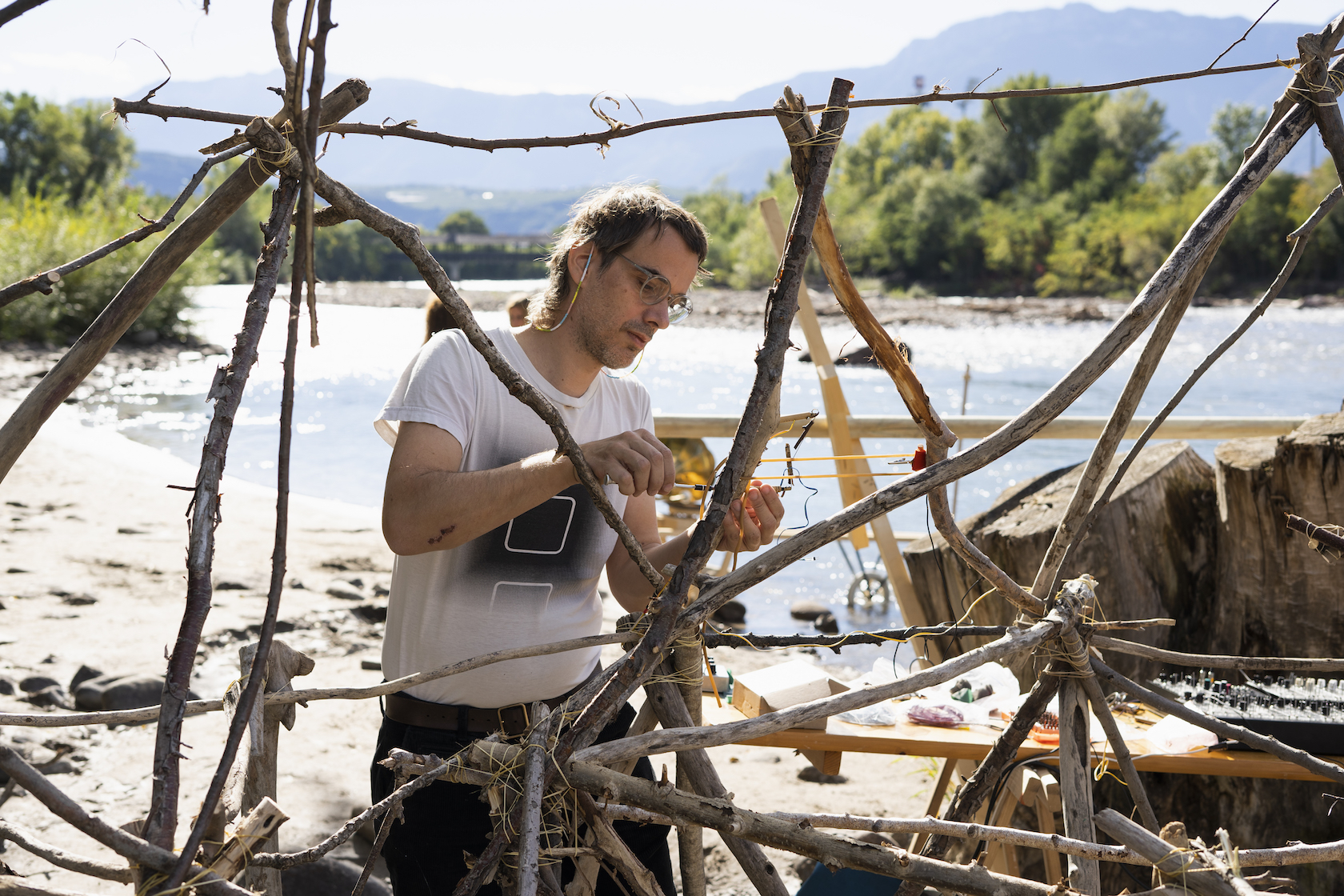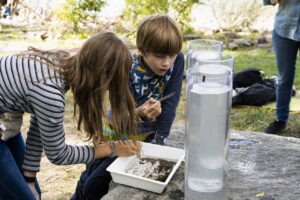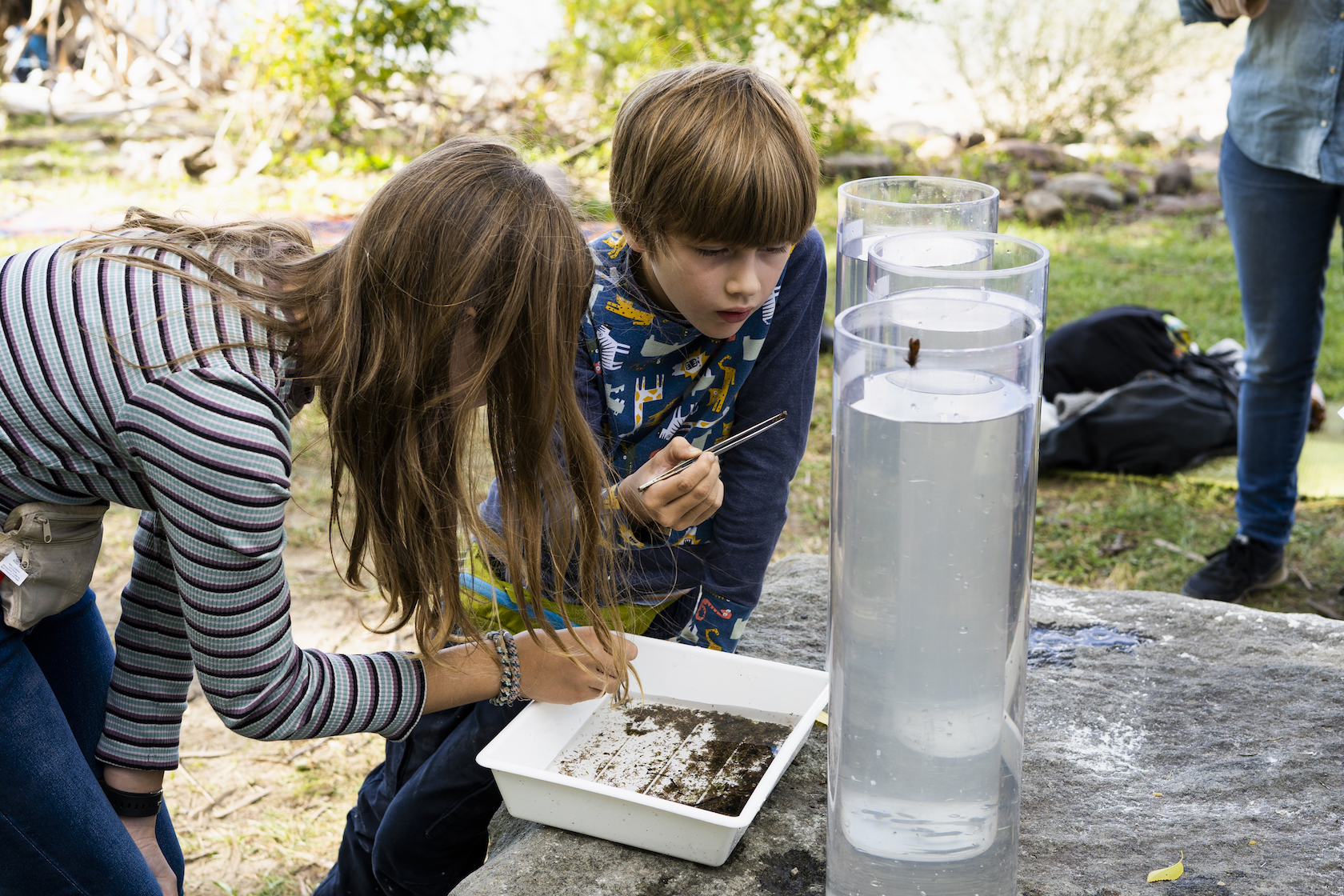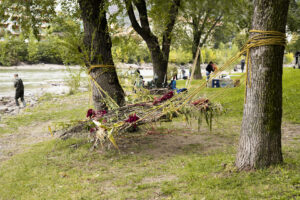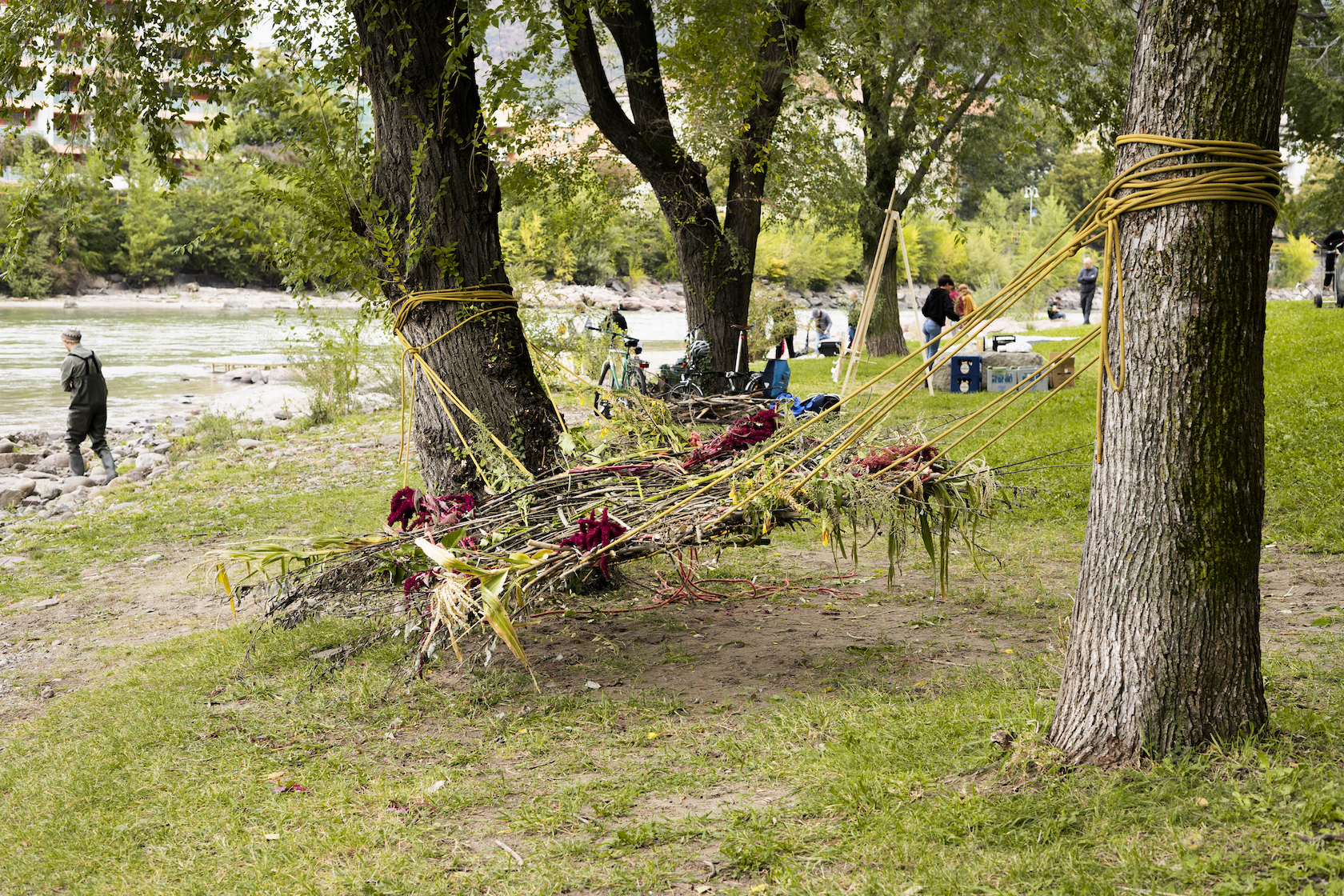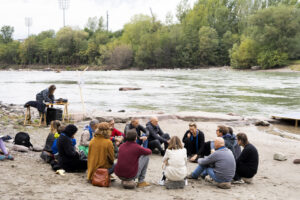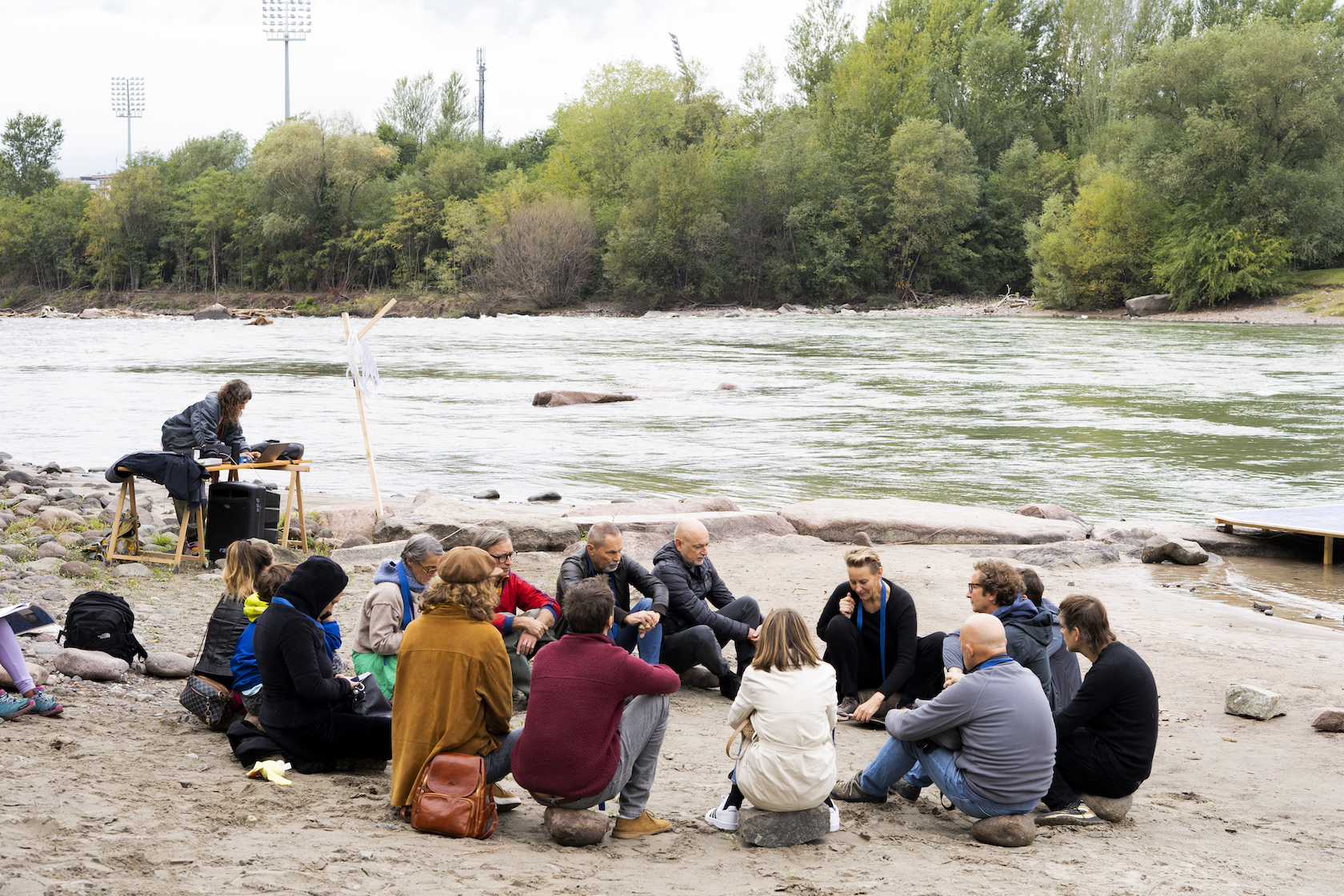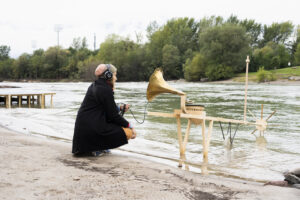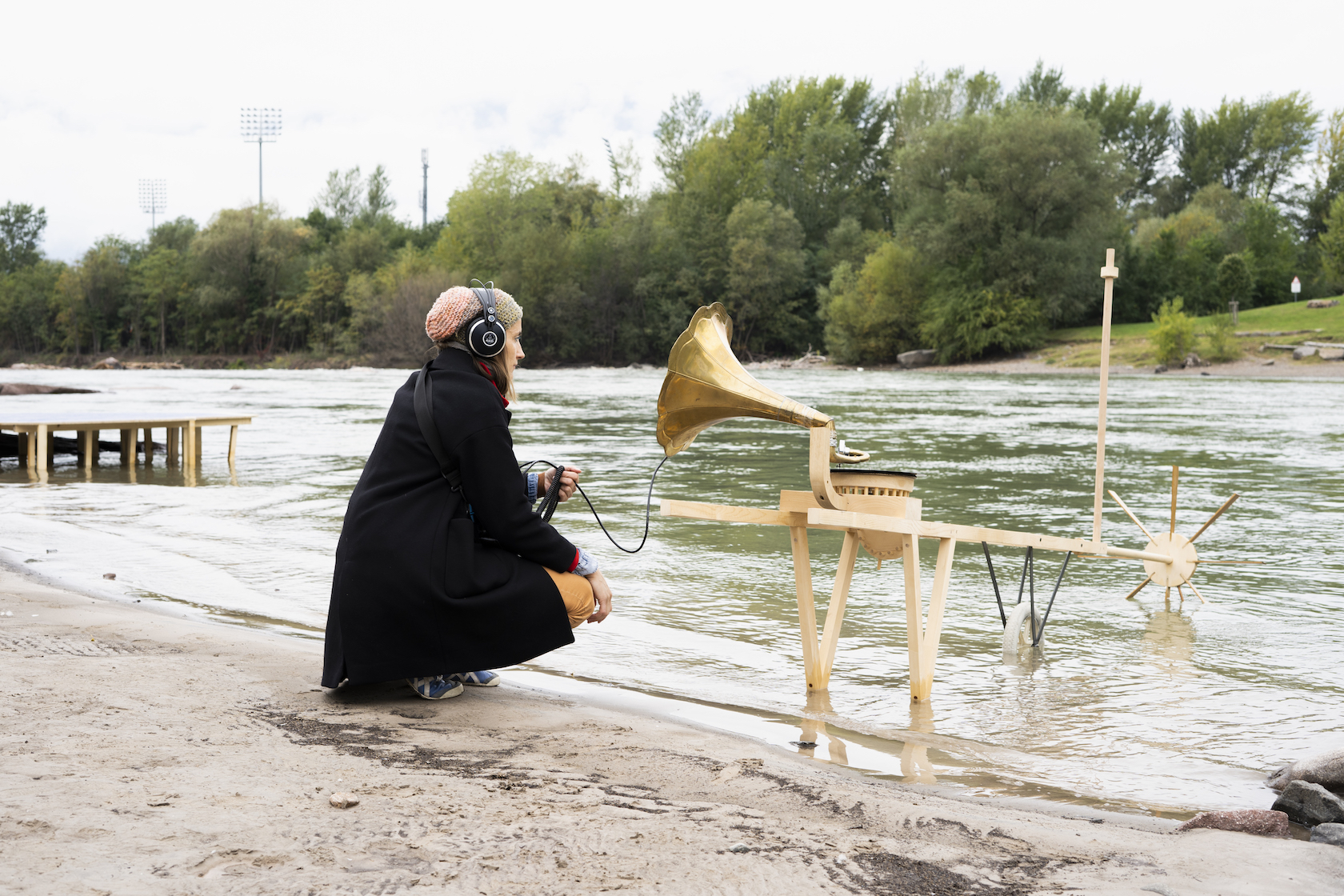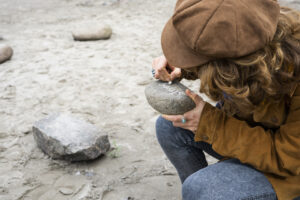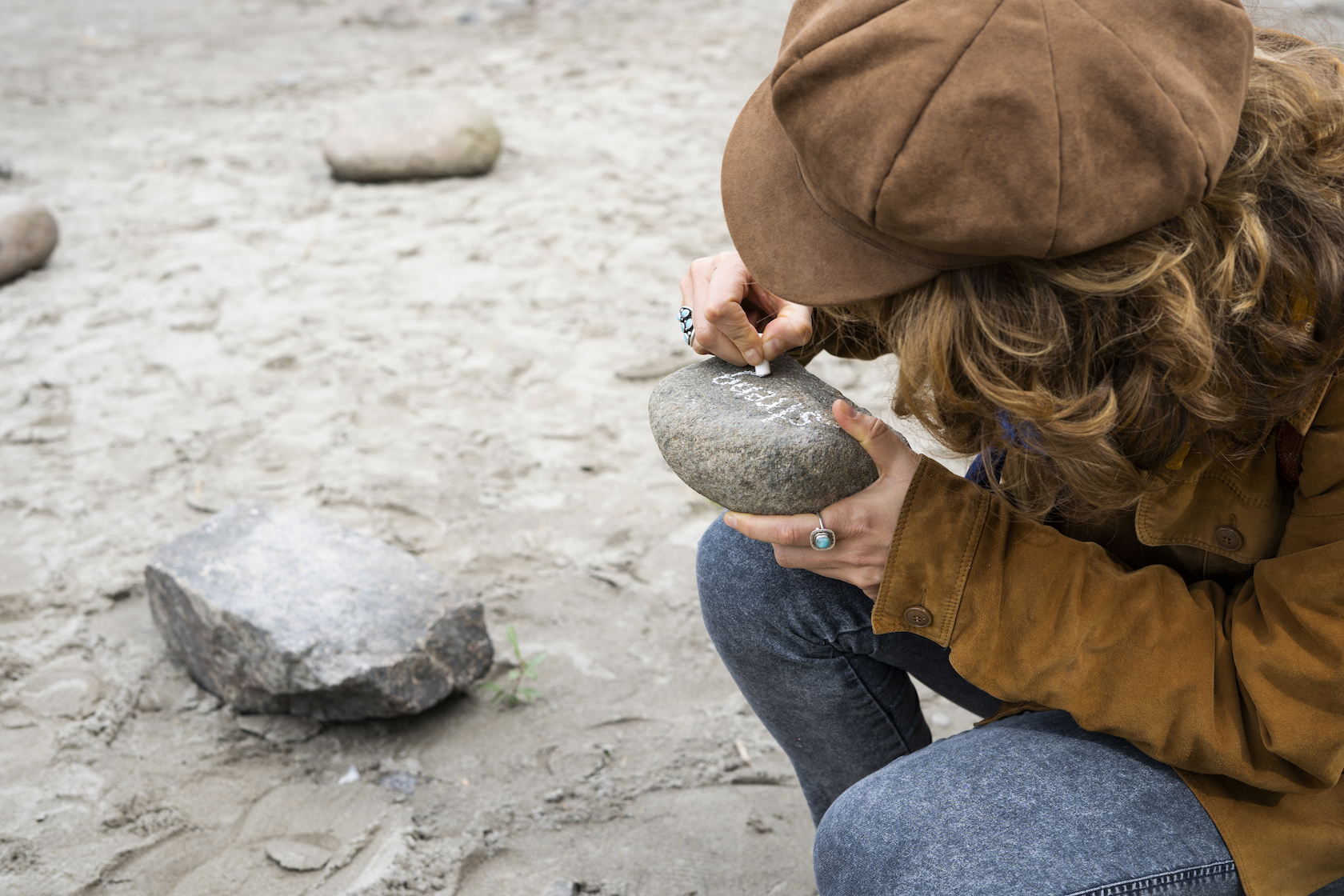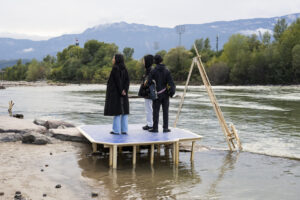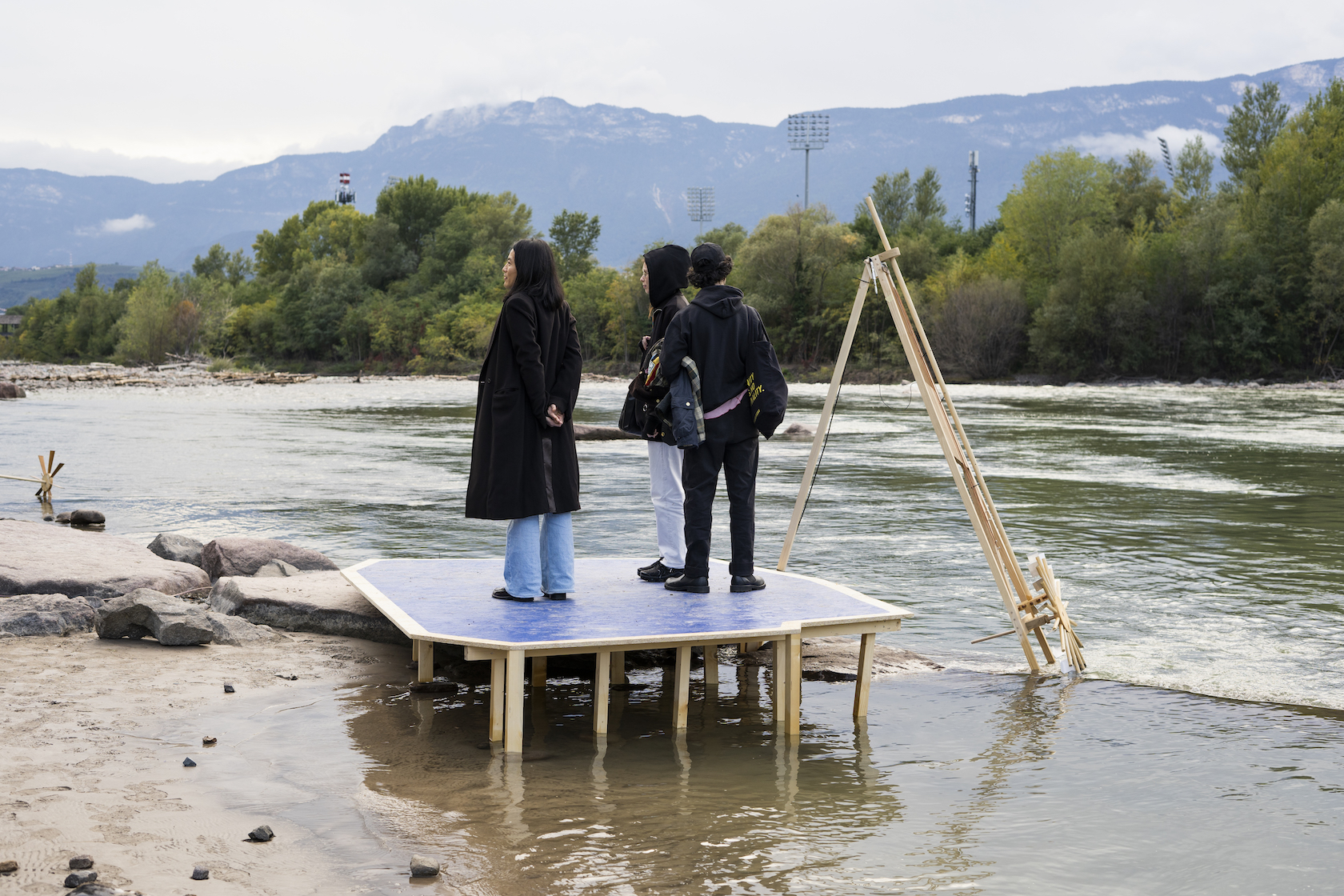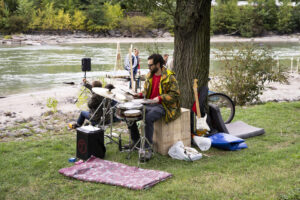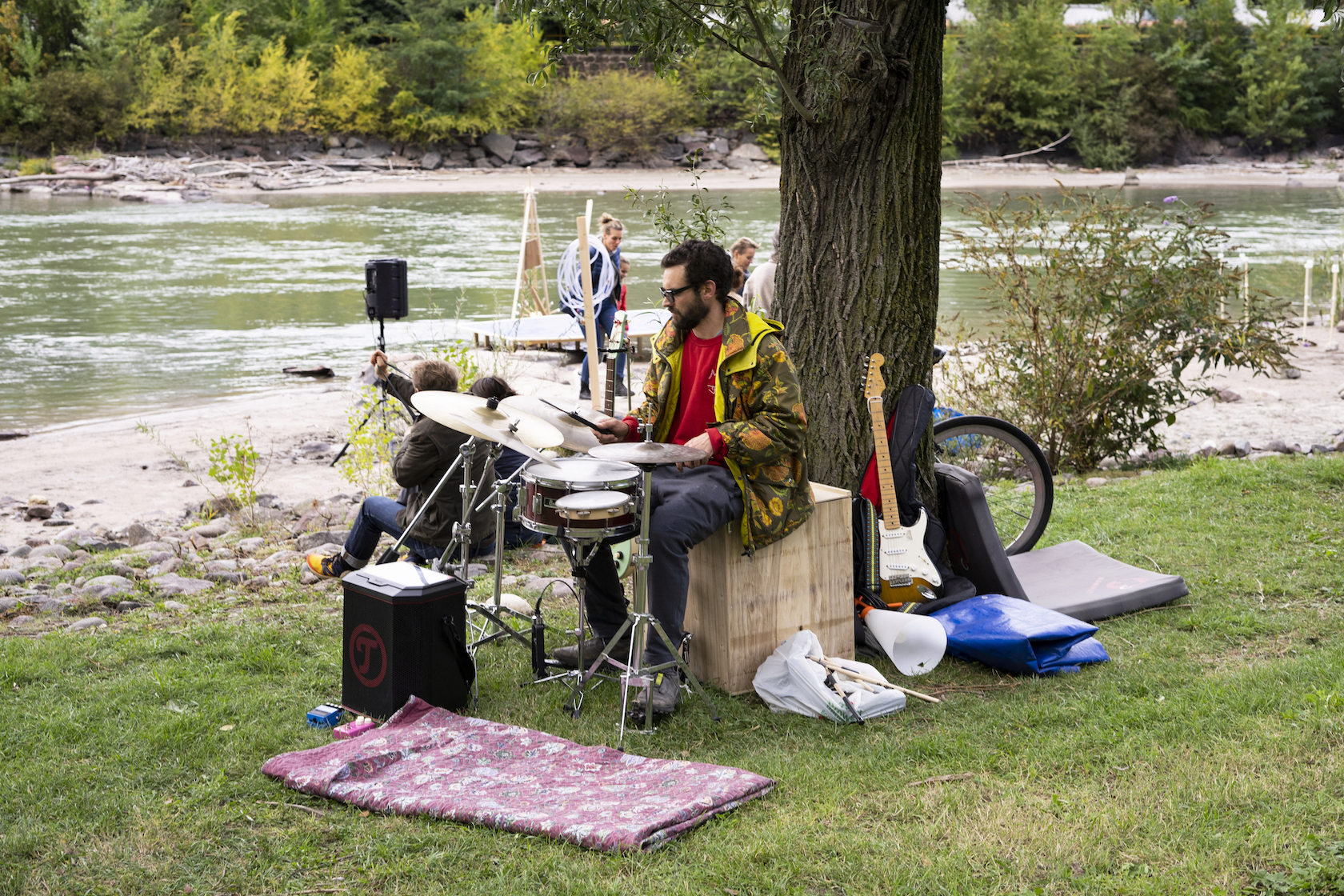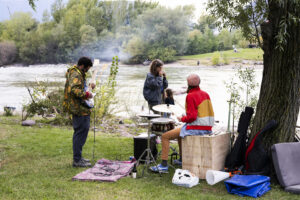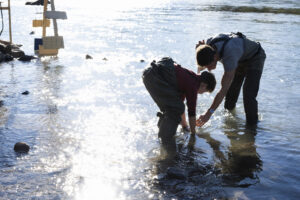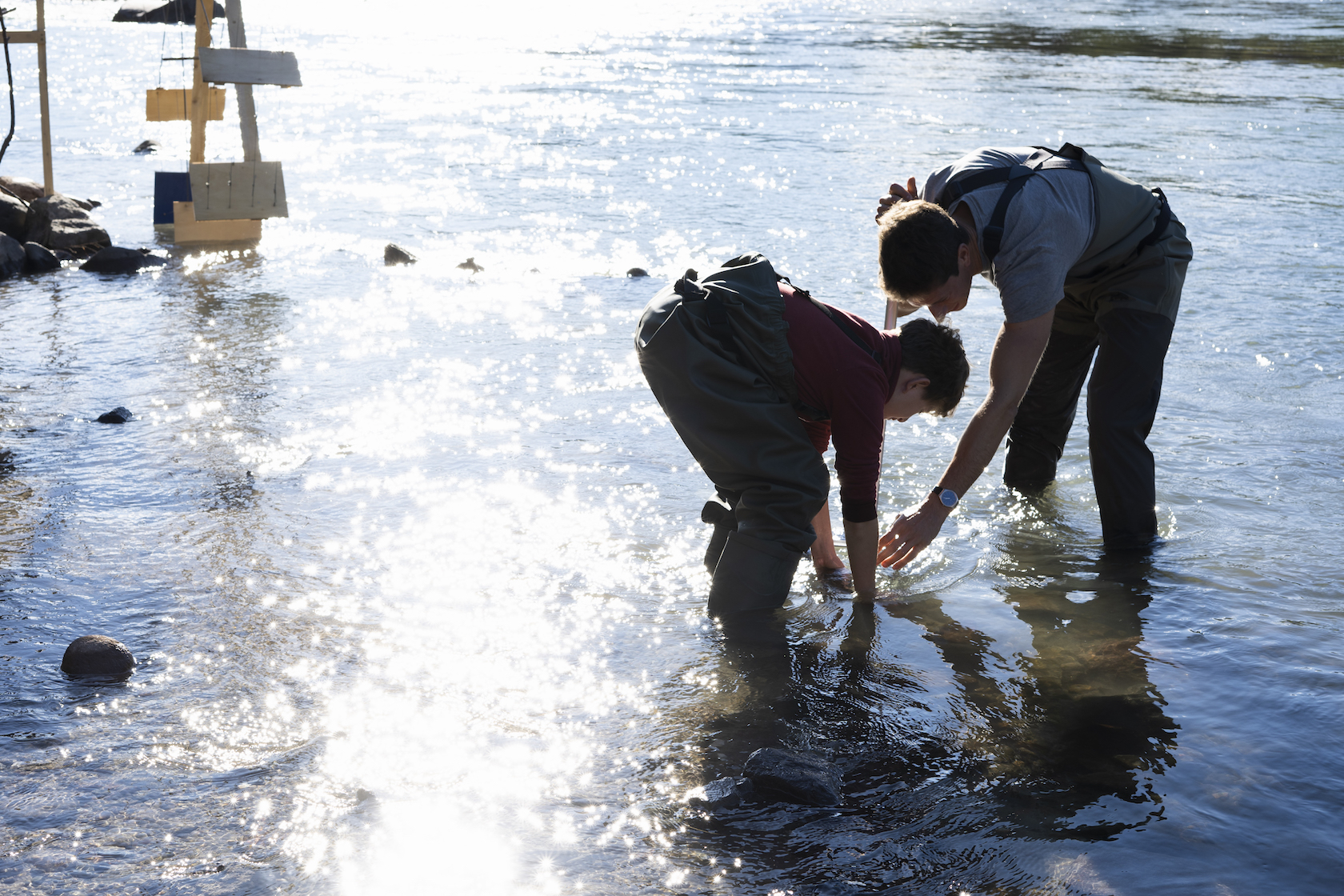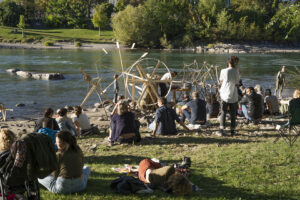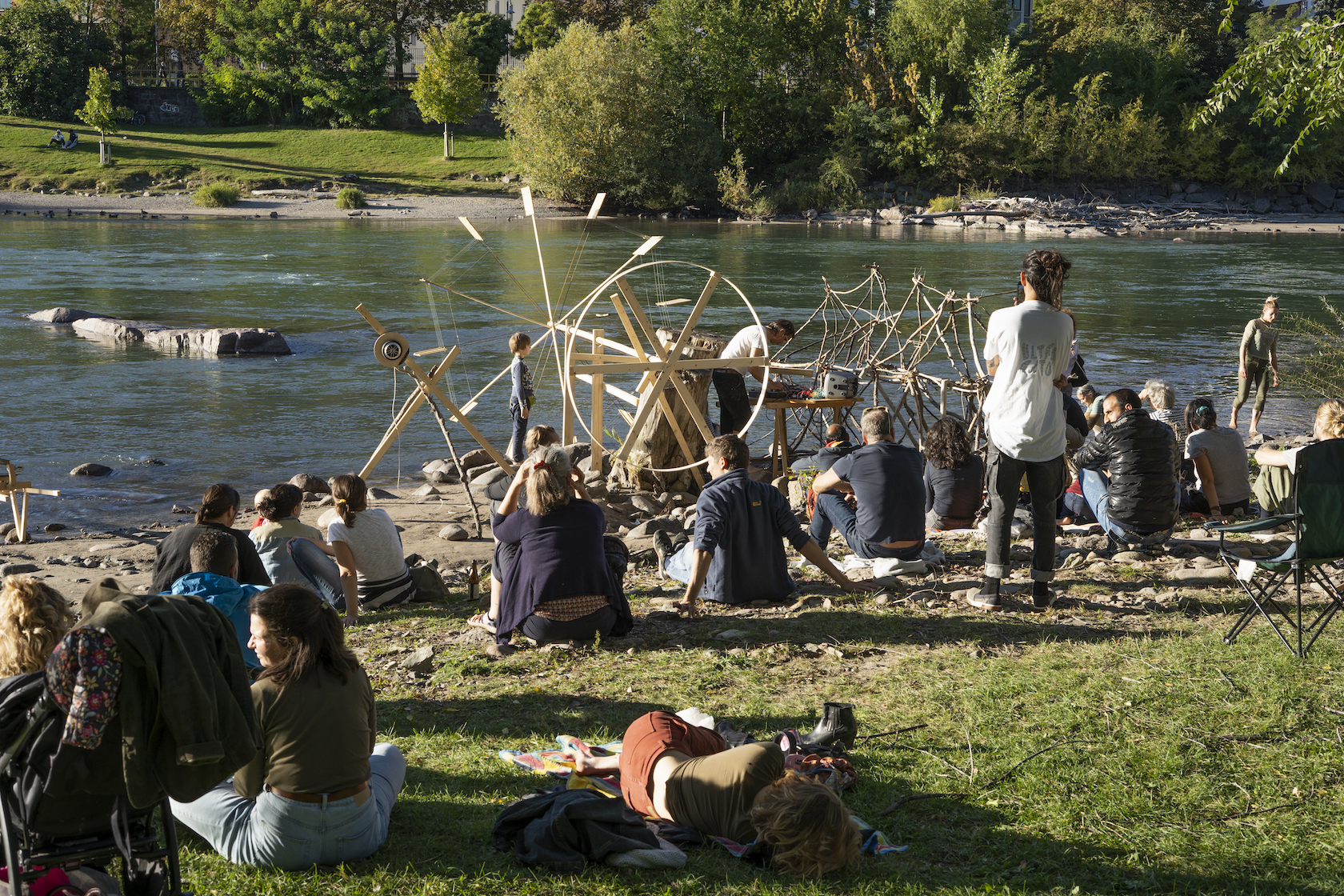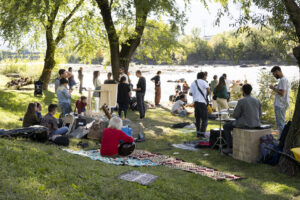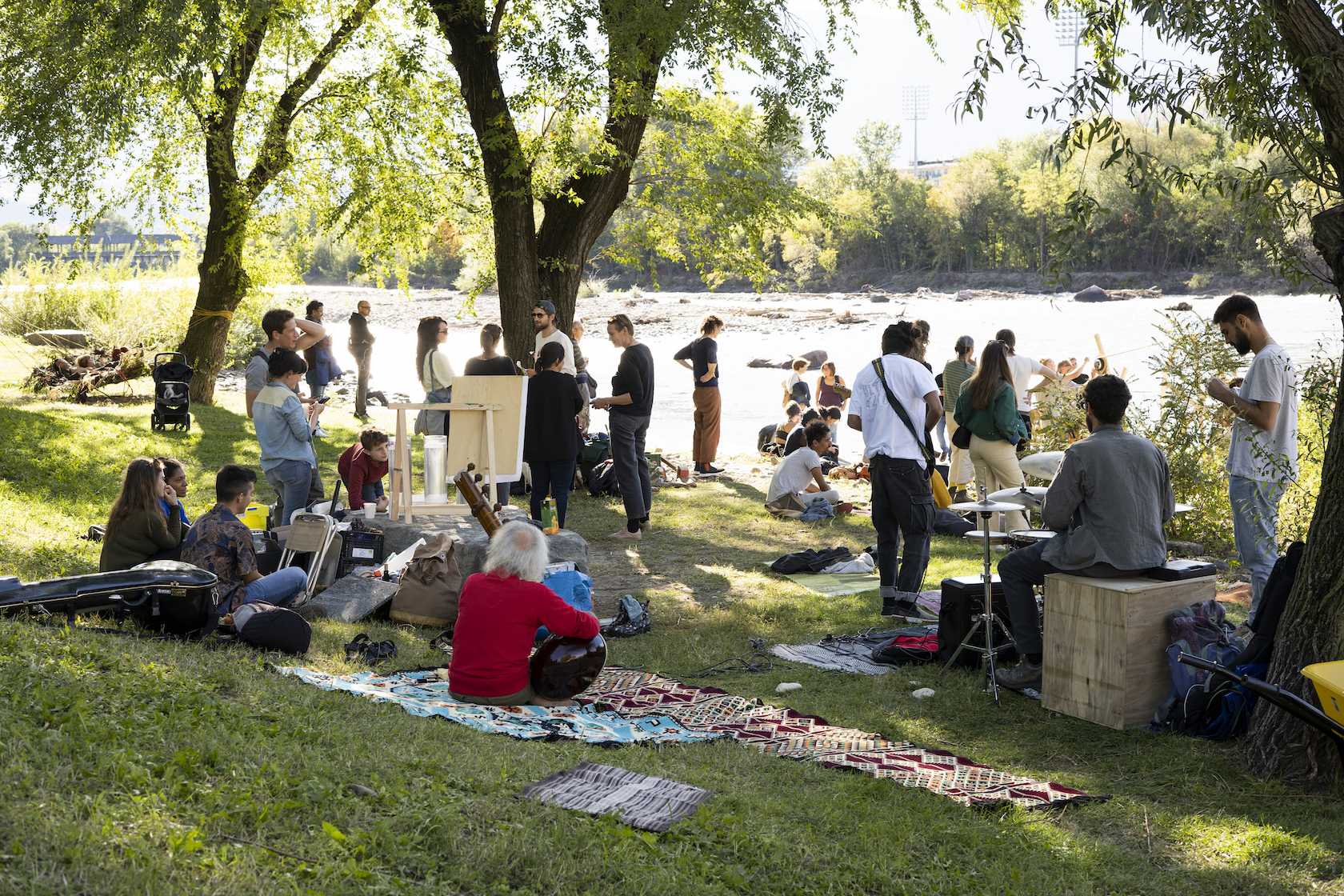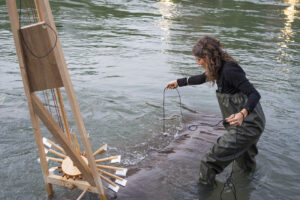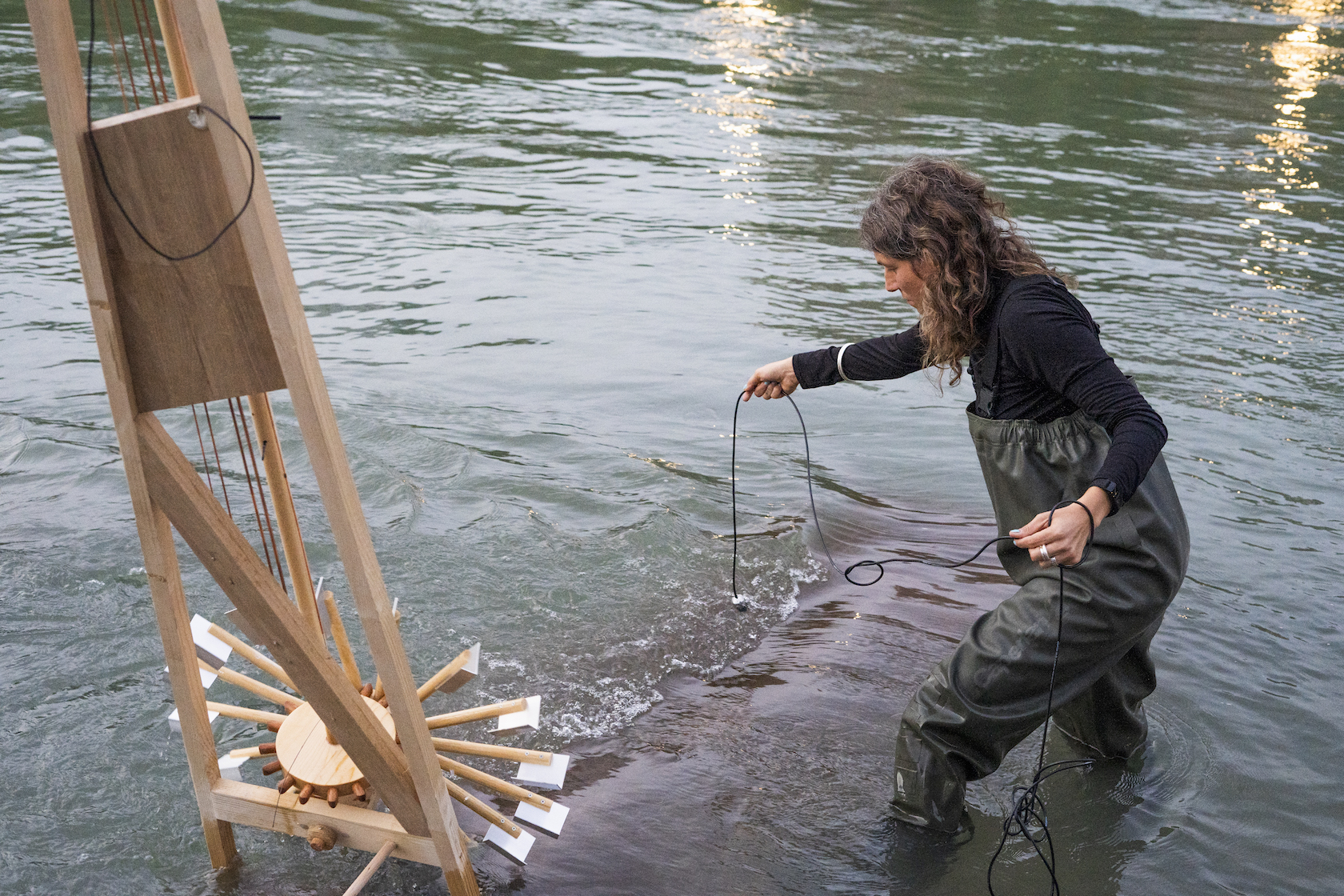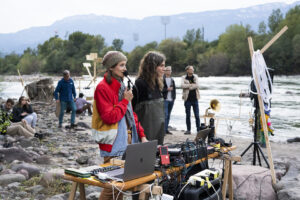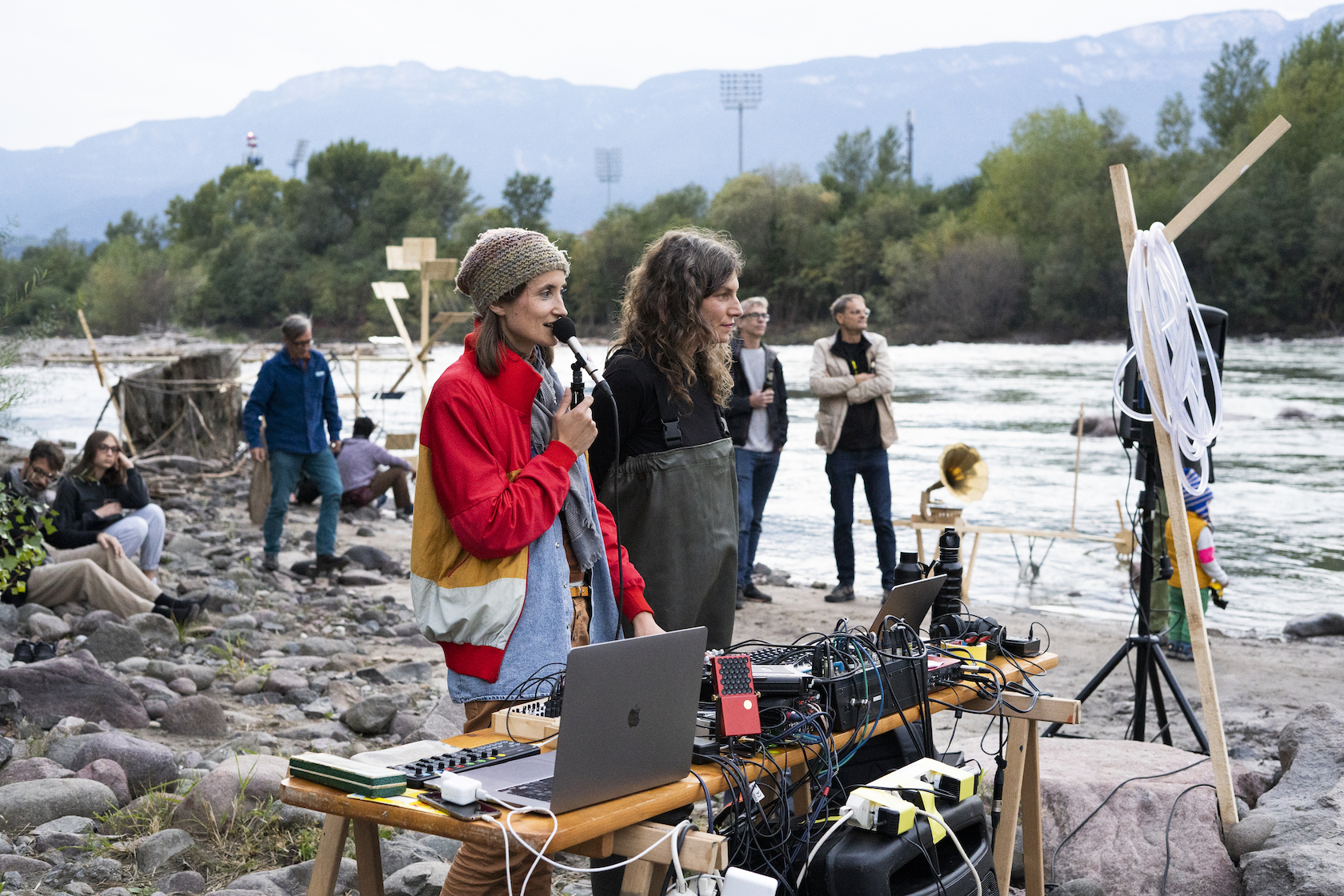 In the second act of A Meander that took place in October 2022 Futurefarmers delve into the transformative power of sound to make visible the dense interconnections of the river. They invite a group of sound artists to explore the river as an interface between humans, water and the environment: passers-by, birdsong, trains, life in the water and the unexpected. The second act is a 2-day program consisting of concerts, performances, workshops, sculptures and experiencing the sunrise together – actions that overlap and merge into each other. They invite to enter a sensitive, auditory dialogue with the river to revitalise our relationship with it and the city it nourishes. A brunch on Saturday morning, invites to reflect upon future scenarios for the rivers in the city of Bolzano.
Where: Riverside of the Isarco, Trientstraße, Bozen
When: 01.08–02.08.2023
With: Futurefarmers, Amedeo Bonini, Christian Faubel, Riccardo Favaro, Margareth Kaserer, Lia Mazzari + Caroline Profanter, Tobias Tavella
Saturday, 1 October 2022
11 am – 1 pm
Discursive Brunch
with Futurefarmers, Peter Hecher (Office for Civil Protection, Autonomous Province of Bolzano), Esther March (Office for Spatial Planning, City of Bolzano), Alberto Winterle und Lorenzo Weber (architects, Turris Babel), Gaia Palmesino (Sociologist), Riccardo Favaro (Zoologist), Enrico Bissardella (South Tyrolean Association for Ornithology and Bird Protection), Giada Carlini (House of hospitality, Italian Red Cross), Angelika Burtscher & Daniele Lupo (curators) and more.
5 – 5.30 pm
Presentation of the program
(Com)positions with river
by Futurefarmers
5.30 – 6 pm
Participative Installation
River Bed
by Margareth Kaserer
6.30 – 7 pm
Jam-Session
Drifting in Place
by Tobias Tavella
7 – 7.30 pm
Concert
Schhh.Sciuó
by Lia Mazzari + Caroline Profanter
8 – 9 pm
Interactive Installation
Water Playing Water
by Amedeo Bonini
Sunday, 2 October 2022
5 – 7 am
Listening Session
Sunrise
with Tobias Tavella / Futurefarmers
3 pm
Interactive Installation and Jam-Session
Drifting in place
Tobias Tavella / Amedeo Bonini
3.30 pm
Workshop
The Stone Architects
by Riccardo Favaro
4 pm
Participative Installation
River Bed
by Margareth Kaserer
5 – 6 pm
Concert
A Rivers Rhythm
by Christian Faubel
6 – 7 pm
Closing Action
by Futurefarmers
Act III: Sound-festival for the Elephant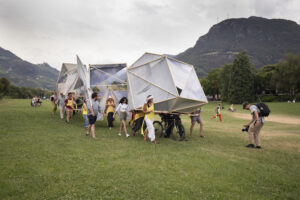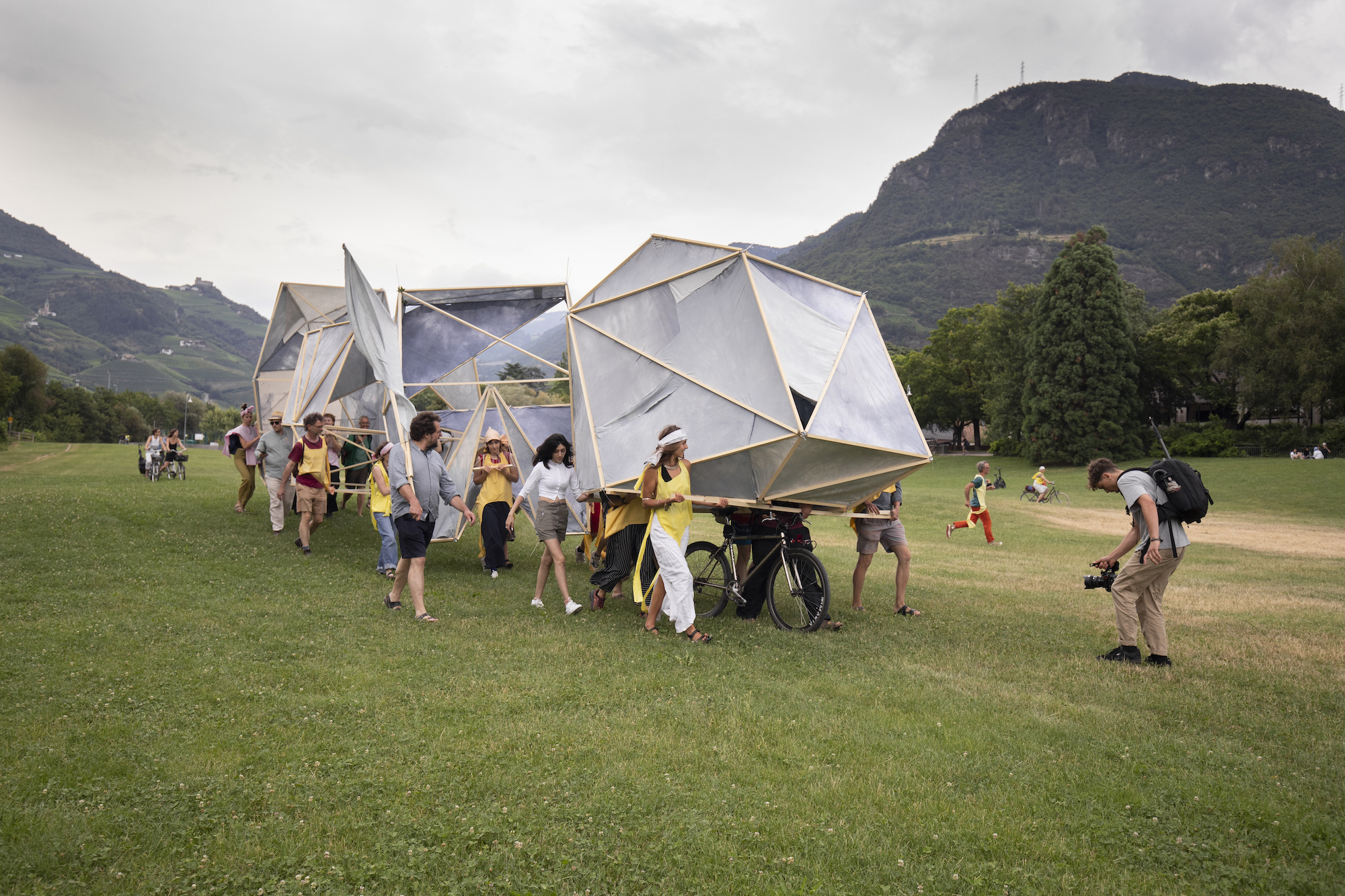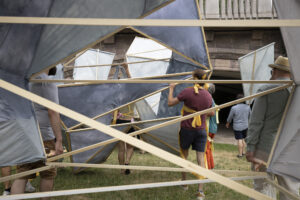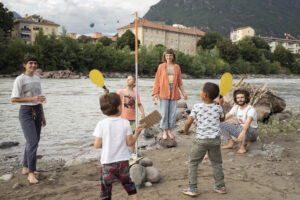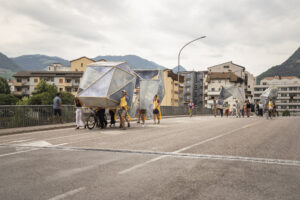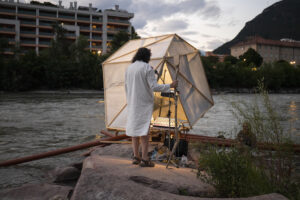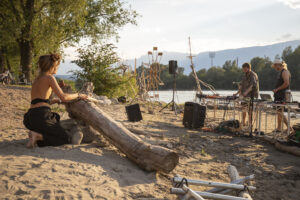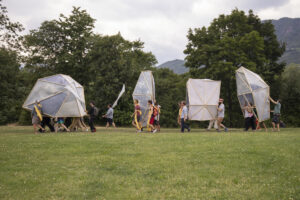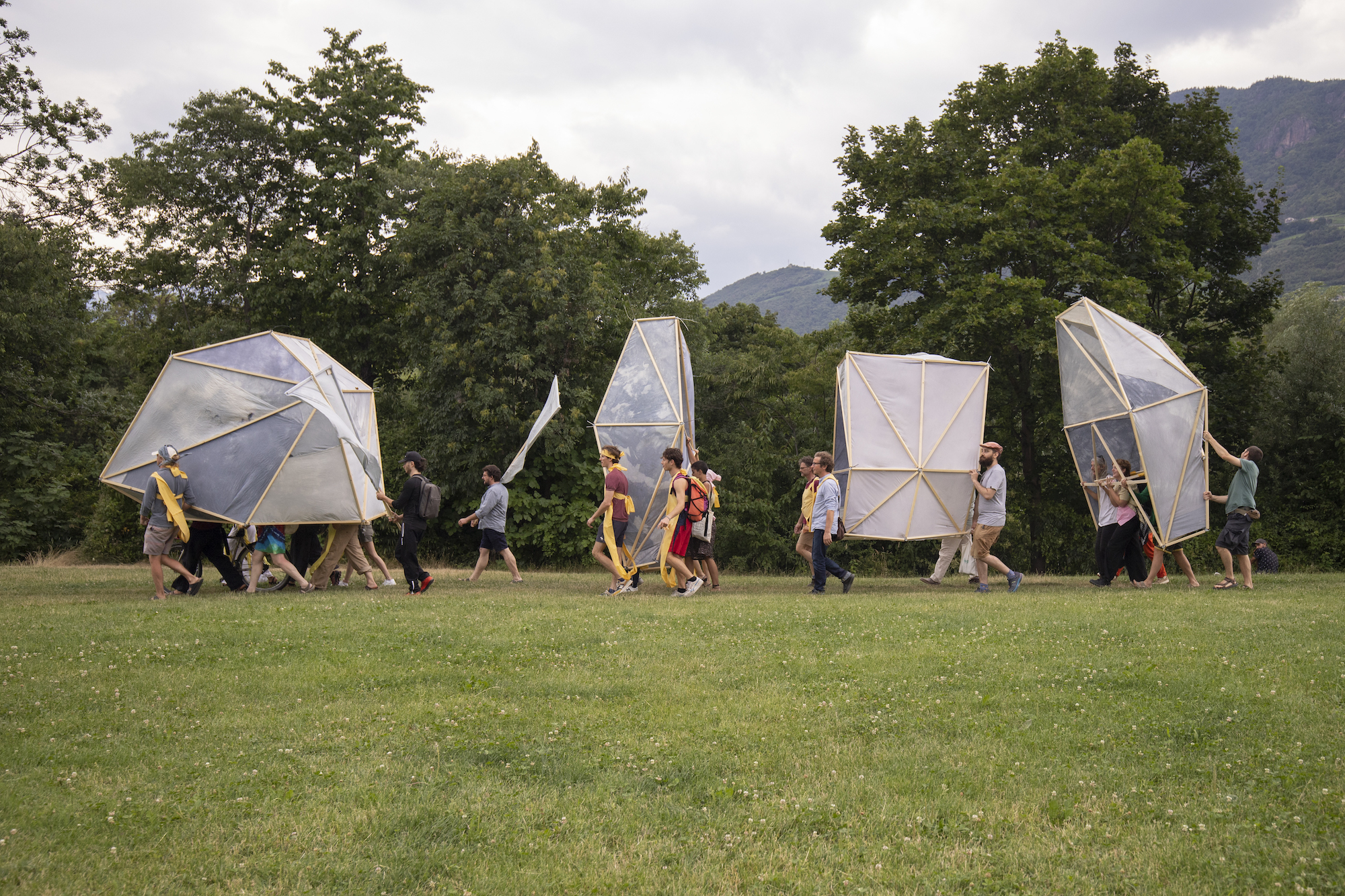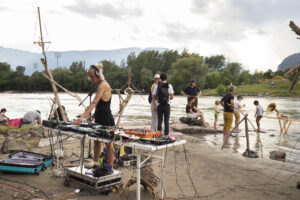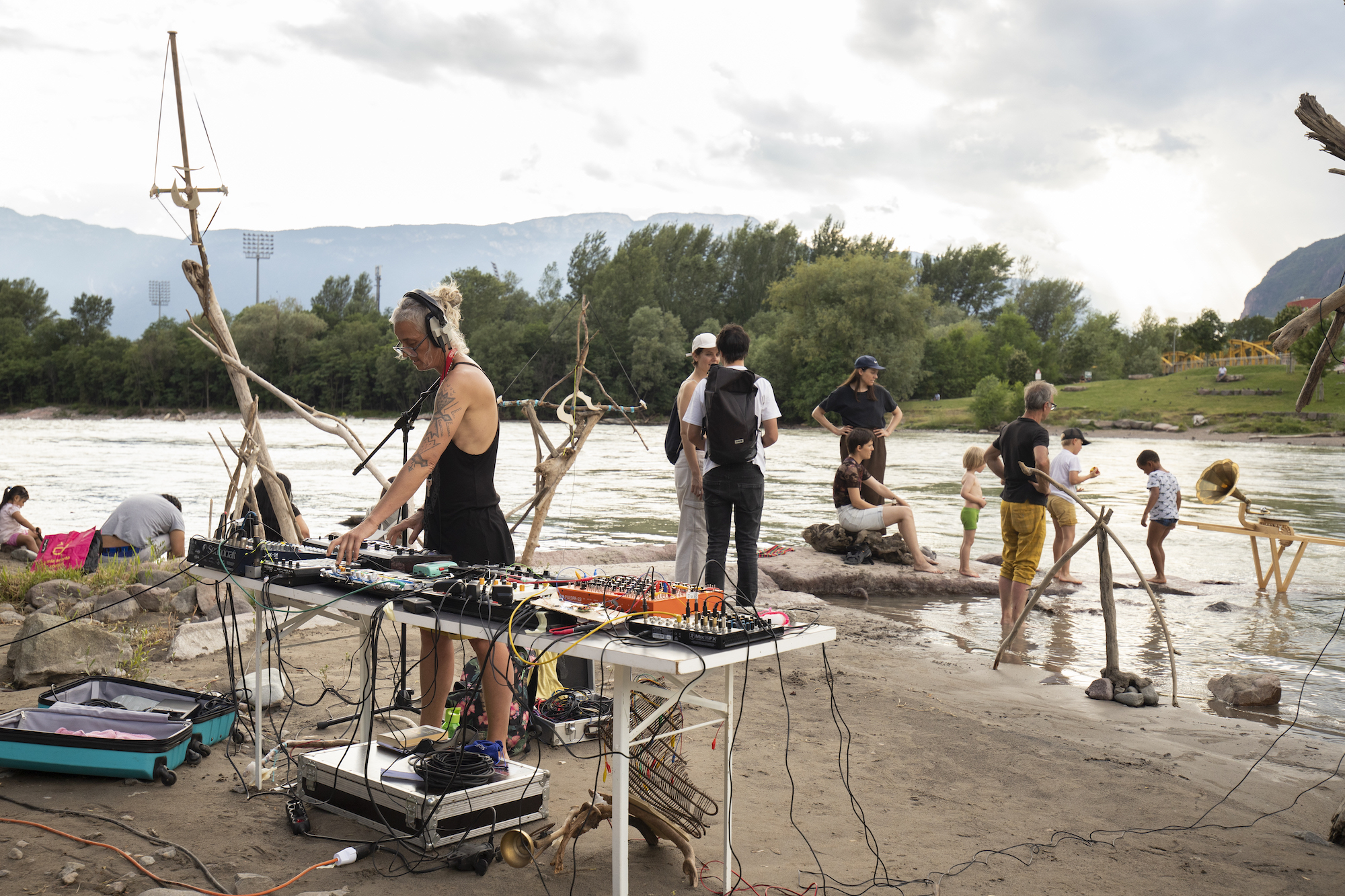 In June/Juli 2023, Act III put the elephant in the center of attention. He is a mythical and contemporary figure that wanders to Bolzano to refresh himself on the banks of the Isarco river. In a Procession on the first day of the festival the elephant (a structure made of wood and fabric) was accompanied to the banks of the Isarco river, where he became the center of everything happening. The appearance of the elephant was occasion for narrations, sound installations, workshops and concerts that transformed the riverbank into a central place of meeting and exchange. The second and third days of the festival, Resonance and Ecstatic Ensembles, also consisted of sound installations and performances by various artists, with the last day being the day when the festival community and all participants transformed into Ecstatic Ensembles.
Where: Riverside of the Isarco, Trientstraße, Bozen
When: 30.06–02.07.2023
With: Futurefarmers, Ellis Blauw, Guillermo Galindo, Jonathan Zwießler, Luana Carp, Ultra Alto, Riverlivers
Friday, 30.06.2023, Procession
5 pm
Departure of the Elephant from Lungomare with Futurefarmers and Ultra Alto
7 pm
Arrival and tuning at the riverside of Isarco
8 pm
Sonisarco. Animate Through Presence installation by Jonathan Zwießler and Luana Carp in collaboration with Ultra Alto
6 – 10 pm
Sound installations tuning by Guillermo Galindo, Ellis Blauw
Saturday, 01.07.2023, Resonance
8 pm
Rippled Voices Sound performance by Ellis Blauw, accompanied by Fly Fishing with Riccardo Favaro
6 – 10 pm
Scenography by Futurefarmers
Sound installations by Guillermo Galindo, Ellis Blauw
Sonisarco. Animate Through Presence installation by Jonathan Zwießler and Luana Carp in collaboration with Ultra Alto
Riverlivers installation with Lorenzo Oliva Laffargue, Gaia D'Inzeo, Sarah Binkowski (UniBz)
Sunday, 02.07.2023, Ecstatic Ensembles
8 pm
Octophant sound performance by Guillermo Galindo
6 – 10 pm
Scenography by Futurefarmers
Sound installations by Guillermo Galindo, Ellis Blauw
Sonisarco. Animate Through Presence installation by Jonathan Zwießler and Luana Carp in collaboration with Ultra Alto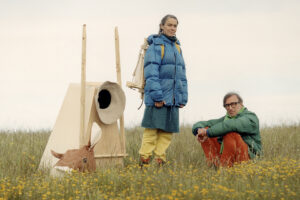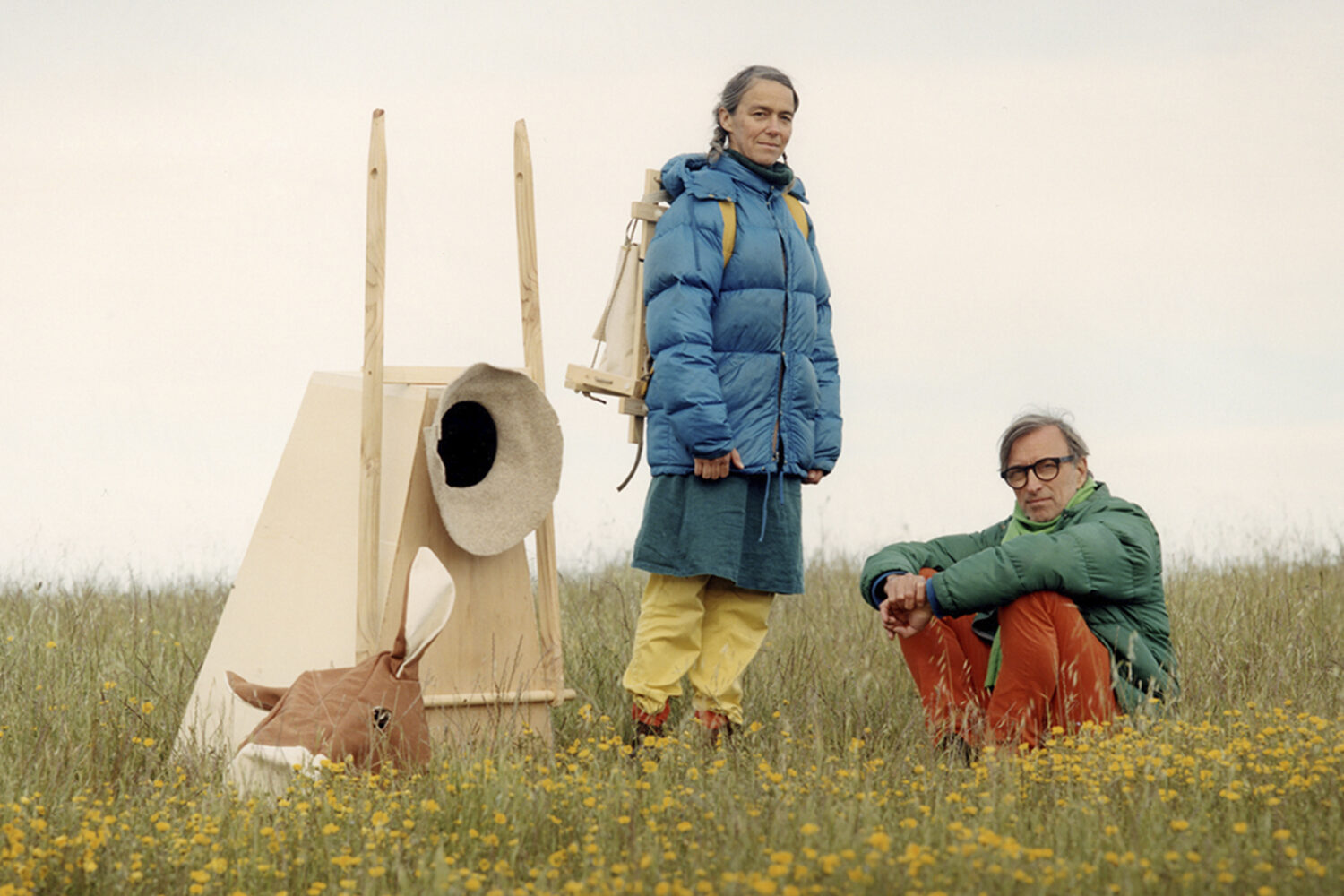 Futurefarmers is an international group of artists, architects, anthropologists and farmers with a common interest in creating frameworks of participation that recalibrate our cultural compass. They work in contexts where intricate social structures are intertwined with city infrastructure and the complexities of collective memories embedded in (and around) a site. Through processes of participatory research, critical reflection and sustained public programming, hidden potentials held within these scenographies can emerge. The process of negotiation between diverse groups of people and across cultures is seminal in grounding this work and the communities that co-create them. Futurefarmers often creates relational sculptures that provide playful entry points and "tools" for participants to gain insight into deeper fields of inquiry – not only to imagine, but to participate in and initiate change in the places we live. These "tools" or sculptural props form a visual and material language that connects to a very immaterial, relational practice.
Ellis Blauw is an artist and performer who often works through collaborative practices in music and set design. She received a master's degree in ceramics from Phiko (MAD faculty) in Hasselt in 1995 and has continued to take courses in textile art, figure theater, light technology, bioplastics and mycelium. As a self-taught artist, she experiments with electronics, circuit-bending and do-it-yourself circuits, instant-composition in musical landscapes related to dance projects. Driven by a fascination with natural processes, she sews, cultivates and assembles multimedia sculptures, agglomerates of mixed media and recycled materials, giving life to a fabulous imagery in which mythology, archetypes and shamanism merge with contemporary themes in open, playful and interactive forms.
Guillermo Galindo is a post-Mexican composer whose work redefines conventional boundaries between music and composition, proposing intersections between art, politics, humanitarian issues, spirituality and social awareness. His acoustic work, including two orchestral compositions commissioned by OFUNAM and the Oakland Symphony Orchestra and Choir, solo instrumental works, two operatic works, sound sculptures, electro-acoustic music, immersive installations, and live improvisation, is combined with the production of graphic scores and three-dimensional cyber-totemic sculptural sound objects. His work has been exhibited in museums and art biennales internationally, including documenta14 (2017) and Pacific Standard Time (2017), and is now part of the permanent collections of the Crystal Bridges Museum in Arkansas, the Cornell Fine Arts Museum in Florida, LACMA in Los Angeles, California, and the National Gallery in Washington, DC.
ULTRA ALTO is an international collective, focusing on dancing, free expression and art.
We set out to shape experiences, that are ULTRA as in "beyond" and "outside the norm" in the area of ALTO Adige. We want to create spaces full of creativity and joy and free of boundaries and prejudice. Our journey started just a year ago when four friends came together with the wish to feel the music and move their bodies one last time before autumn arrives. A WhatsApp group was setup. Quickly, more and more people joined and the desire became a need: We all want to Dance, Interact, and Get to Know People.
By now many peaceful and environmental-aware dance sessions happened and nurtured us throughout the year. We experimented with different formats, raves, silent raves, silent nature dances, festivals, demonstrations and even snow dance sessions, raving through cold winter days, lighting them up with warm and melodic vibes.
The collective grew both in size and strength – accompanying new creative heads – all to bring more joyful, convivial, and liberating moments to Bolzano and Alto Adige. We connected with local creatives to extend our formats, enriching them with discussion rounds, workshops, bazaars, space design and jam sessions.
Curation
Angelika Burtscher, Daniele Lupo
A project by
Lungomare
Graphic-Design
Chiara Cesaretti, Linsey Dolleman, Paula Götz
Photo Documentation
Elisa Cappelari
With
Amedeo Bonini, Ellis Blauw, Christian Faubel, Guillermo Galindo, Jonathan Zwießler, Riccardo Favaro, Margareth Kaserer, Lia Mazzari + Caroline Profanter, Lorenzo Oliva Laffargue + Gaia D'Inzeo + Sarah Binkowski, Luana Carp, Ultra Alto, Tobias Tavella
With the support of
Provincia Autonoma di Bolzano, Comune di Bolzano, Regione Autonoma Trentino-Alto Adige, Fondazione Cassa di Risparmio, Forum Austriaco di Cultura, Parkhotel Laurin