DIFFERENCE AS POTENTIAL – 26.11.2019 – 7pm – ORIZZONTALE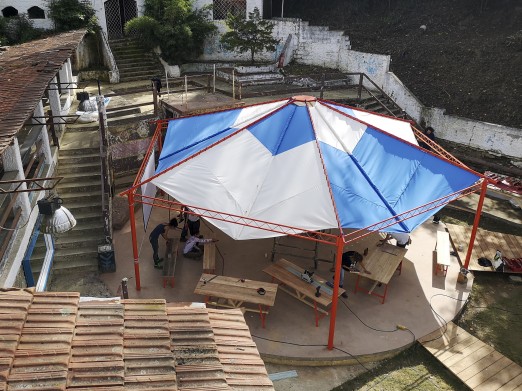 Also this year Lungomare proposes the series of talks, workshops and performances: Difference as potential.
With this program Lungomare focuses on the idea of the city as a social space. We think of the city and its shared places as a tool that can make visible the transformations that currently take place in our society, as a place of contact and meeting between different cultures and people, a place where difference becomes a protagonist. The events represent an opportunity for exchange and discussion with artists, architects and designers to question the urban spaces that are transformed and radicalized, making aspects ephemeral such as the concept of "other", "identity", "belonging" and "hospitality".
ORIZZONTALE
26 November 2019
7 pm

Nasrin Mohiti Asli (Orizzontale)
in conversation with Campomarzio
in Italian language
The third appointment of the series of talks Difference as potential presents Orizzontale, an architects' collective based in Rome whose work crosses the fields of architecture, urbanism, public art, and DIY practice.
Since 2010 Orizzontale has been developing projects of common relational spaces, giving form to both dismissed and unseen images of the city. These projects have led to experimenting new kinds of collaborative interactions between city dwellers and urban commons as well as offering the possibility to test the boundaries of the architectural creation process.
Currently Orizzontale is composed by Jacopo Ammendola, Juan Lopez Cano, Giuseppe Grant, Margherita Manfra, Nasrin Mohiti Asli, Roberto Pantaleoni, Stefano Ragazzo
---
TALK

RE-HABIT AND RE-CONSTRUCT THE COMMON SPACE
The public space is the dimension in which we live every day as inhabitants, and where Orizzontale decided to act as architects. The progressive estrangement of communities from the collective spaces of the city and the rapid evolution of the needs of contemporary society, led the collective to start a design research that had as its central theme the public space.
Orizzontale's aim is to investigate the causes of this "desertification" and to respond to new social needs by experimenting with new ways of intervention in public space. Public actions, ephemeral architecture, shared construction workshops are some of the tools they use to act in the reactivation of common spaces.
Through the actions and processes of reactivation of collective places, we re-live spaces, both directly, with the "open building site" and indirectly, through their installations. The objective of these "urban scenic machines" is to create a collective imagination, stimulate emotions, reflections, habits and behaviours, promoting interaction and involving the inhabitants in the redefinition of the use and configuration of the space.
With their projects Orizzontale tries to give shape to an imaginative, inclusive and celebratory common space.
---
Campomarzio is an architectural collective practice which merges practical and theoretical expertise within the fields of architecture, urbanism, research, and visual communication, to develop projects and strategies for public and private clients.
About Lungomare
Lungomare, a cultural association founded in Bolzano in 2003, was created from the desire and necessity to open a space in which to share differences, experiences, opinions and desires, a space in which to make the link between cultural production and the political and social dimension. Lungomare undertakes projects that investigate and test possible relationships between design, architecture, urban planning, art and theory, the results of which are presented in different formats: public discussions, conferences, publications, exhibitions and interventions in public spaces. All these formats are characterised by the intention to interact with cultural and socio-political processes relating to the region in which Lungomare is located.
Currently Lungomare's activities focus on long-term residency projects, a format whereby Lungomare invites guests to engage and interact within the context of South Tyrol. Lungomare's activities are based on three principles: specific attention to the context in which the association's projects are undertaken, the transdisciplinary approach that distinguishes these projects, and reflection on the role of Lungomare as a cultural institution in connection with the region in which it operates.
Chronology
2003 Angelika Burtscher and Daniele Lupo establish Lungomare
2003 – 2005 curators: Patrizia Bertolini, Angelika Burtscher, Roberto Gigliotti, Manuela Demattio, Paul Peter Hofer, Brita Köhler, Daniele Lupo
2005 – 2013 curators: Angelika Burtscher e Daniele Lupo
2011 – 2013 scientific committee established: Angelika Burtscher, Roberto Gigliotti, Daniele Lupo, Vincenzo Mancuso, Lisa Mazza, Paolo Plotegher, Heimo Prünster
2014 ­− 2020 curators: Angelika Burtscher, Roberto Gigliotti, Daniele Lupo, Lisa Mazza, Paolo Plotegher
2021 artistic directors: Angelika Burtscher, Daniele Lupo
Production and organisation: Ada Keller
Territory
Lungomare is located at the edge of Bolzano, the capital of South Tyrol, and relates to the context in which it operates, attempting to highlight the dynamics of change. Large urbanized areas alternate with broad areas of intensive cultivation and yet others of picturesque landscape, all of which penetrate the centre of the city. The city is surrounded by mountains and this is one of the reasons why the tourism industry has become a driving force in this locality. The demographic structure of the city has been characterized for a long time by the coexistence of two populations, those speaking German and those speaking Italian. However, the social and demographic composition of Alto Adige Südtirol is changing. Migrants, including those from non-European countries are making their way to the area to settle, whilst others, including political refugees, are flowing through the region.